Makita Cordless Hammer Drills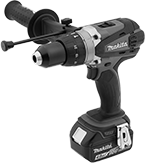 Just twist the collar ring and this tool will change from a standard cordless drill to a hammer drill.
The rotary-only mode is for general purpose drilling and driving fasteners. Use this mode with standard drill bits for wood and metal as well as masonry drill bits. In rotary-percussion mode, the tool provides both a rotary drilling and hammering action. The hammering action pounds concrete and masonry, which breaks up the material while it drills. Use this mode for drilling masonry materials using carbide-tipped masonry drill bits.
This drill has a keyless chuck for fast bit changes. It has a variable speed—the further you depress the trigger, the faster the drill rotates. The adjustable clutch lets you adjust the torque.
See Batteries and Chargers for Makita Cordless Tools for replacement batteries and chargers.
Voltage
For


Max.

Bit
Shank Size
For

Max.


Drill Bit Size
for Concrete
For

Max.

Drill
Bit Size
for Steel

Max.




No-Load




Speed,

rpm

Max.


Torque

Max.

No-Load


Blows
per Minute

No.

of
Clutch
Settings
Batteries
Included

O'all




Lg.

Wt.,




lbs.

Manufacturer
Model


No.

Specifications
Met
Each
18V DC

1/2

"

5/8

"

1/2

"
2,000
750 in.-lbs.
30,000
12
Yes
8

7/8

"
5
XPH03MB
UL Listed

00000000
0000000