How to

Identify and Measure Fittings
Pipe size is an industry designation, not the actual size. View information about how to measure threaded and unthreaded pipe and pipe fittings.
High-Polish

Metal

Quick-Clamp

Sanitary Tube Fittings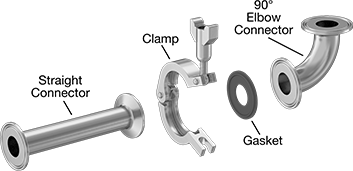 Temperature

Range:

See Gaskets or O-Rings
The smooth finish inside these fittings makes it easy to remove product residue. Also known as aseptic and tri-clamp fittings, they connect with a gasket or O-ring, a clamp, and another quick-clamp fitting for a fast and easy way to access your line. The pressure rating of the fitting will vary depending on the clamp you choose, and the temperature rating will vary based on the gasket or O-ring material you choose.
Inch fittings connect to another same-sized fitting and squeeze the gasket in between for a tight seal.
304 stainless steel fittings have very good corrosion resistance. 316 stainless steel fittings have excellent corrosion resistance.
3-A certified fittings comply with sanitary standards.
Note: To complete a connection, you'll need two quick-clamp fittings, a clamp, and a gasket or O-ring (all sold separately).
For technical drawings and 3-D models, click on a part number.


For Use

With:

Air,

Beverage,

Dairy,

Food,

Water

Tubing:

Use with welded

304/304L

or

316/316L

stainless steel that meets ASTM A269 or

ASTM 270

Specifications

Met:

3-A Certified

63-03

304 Stainless
Steel with Wing Nut

304 Stainless
Steel with Wing
Nut,
Spring Loaded

304 Stainless
Steel with Bolt

White Nylon Plastic with Wing Nut
Clamps with wing nut tighten by hand. Clamps with bolt tighten with a wrench. They handle higher pressures than wing-nut clamps for a stronger, more secure hold.
For
Tube
OD
For
Flange
OD
Bolt
Material

Max.


Pressure
For Tube
Specifications
Met
Each

304 Stainless Steel with Wing Nut

1", 1

1/2

"
1.984"
__
500 psi @ 72° F
ASTM A269, ASTM A270
00000000
00000
2"
2.516"
__
450 psi @ 72° F
ASTM A269, ASTM A270
00000000
00000
2

1/2

"
3.047"
__
400 psi @ 72° F
ASTM A269, ASTM A270
00000000
00000
3"
3.579"
__
350 psi @ 72° F
ASTM A269, ASTM A270
00000000
00000
4"
4.682"
__
200 psi @ 72° F
ASTM A269, ASTM A270
00000000
00000

304 Stainless Steel with Wing

Nut,

Spring Loaded

1", 1

1/2

"
1.984"
__
500 psi @ 72° F
ASTM A269, ASTM A270
0000000
00000
2"
2.516"
__
450 psi @ 72° F
ASTM A269, ASTM A270
0000000
00000
2

1/2

"
3.047"
__
400 psi @ 72° F
ASTM A269, ASTM A270
0000000
00000
3"
3.579"
__
350 psi @ 72° F
ASTM A269, ASTM A270
0000000
00000
4"
4.682"
__
200 psi @ 72° F
ASTM A269, ASTM A270
0000000
00000

304 Stainless Steel with Bolt

1", 1

1/2

"
1.984"
304 Stainless Steel
1,500 psi @ 72° F
ASTM A269, ASTM A270
00000000
00000
2"
2.516"
304 Stainless Steel
1,000 psi @ 72° F
ASTM A269, ASTM A270
00000000
00000
2

1/2

"
3.047"
304 Stainless Steel
1,000 psi @ 72° F
ASTM A269, ASTM A270
00000000
00000
3"
3.579"
304 Stainless Steel
1,000 psi @ 72° F
ASTM A269, ASTM A270
00000000
00000
4"
4.682"
304 Stainless Steel
1,000 psi @ 72° F
ASTM A269, ASTM A270
00000000
00000

White Nylon Plastic with Wing Nut

1", 1

1/2

"
1.984"
__
150 psi @ 72° F
ASTM A269, ASTM A270
00000000
00000
2"
2.516"
__
150 psi @ 72° F
ASTM A269, ASTM A270
00000000
00000
2

1/2

"
3.047"
__
150 psi @ 72° F
ASTM A269, ASTM A270
00000000
00000
3"
3.579"
__
150 psi @ 72° F
ASTM A269, ASTM A270
00000000
00000
4"
4.682"
__
150 psi @ 72° F
ASTM A269, ASTM A270
00000000
00000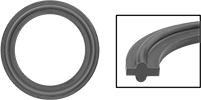 For
Tube
OD
ID
OD

Thick.

Temp.




Range,




°F

Color
Specifications
Met
Each

Gaskets

1

1/2

"
1.400"
1.980"
0.203"
-30° to 200°
Black
3-A Certified 18-03, FDA Compliant 21 CFR 177.1550, FDA Compliant 21 CFR 177.2600
0000000
00000
2"
1.900"
2.520"
0.203"
-30° to 200°
Black
3-A Certified 18-03, FDA Compliant 21 CFR 177.1550, FDA Compliant 21 CFR 177.2600
0000000
000
2

1/2

"
2.400"
3.050"
0.203"
-30° to 200°
Black
3-A Certified 18-03, FDA Compliant 21 CFR 177.1550, FDA Compliant 21 CFR 177.2600
0000000
000
3"
2.900"
3.580"
0.203"
-30° to 200°
Black
3-A Certified 18-03, FDA Compliant 21 CFR 177.1550, FDA Compliant 21 CFR 177.2600
0000000
000
4"
3.870"
4.680"
0.203"
-30° to 200°
Black
3-A Certified 18-03, FDA Compliant 21 CFR 177.1550, FDA Compliant 21 CFR 177.2600
0000000
0000

EPDM Rubber

1

1/2

"
1.400"
1.980"
0.203"
-20° to 300°
Black
3-A Certified 18-03, FDA Compliant 21 CFR 177.1550, FDA Compliant 21 CFR 177.2600
0000000
0000
2"
1.900"
2.520"
0.203"
-20° to 300°
Black
3-A Certified 18-03, FDA Compliant 21 CFR 177.1550, FDA Compliant 21 CFR 177.2600
0000000
0000
2

1/2

"
2.400"
3.050"
0.203"
-20° to 300°
Black
3-A Certified 18-03, FDA Compliant 21 CFR 177.1550, FDA Compliant 21 CFR 177.2600
0000000
0000
3"
2.900"
3.580"
0.203"
-20° to 300°
Black
3-A Certified 18-03, FDA Compliant 21 CFR 177.1550, FDA Compliant 21 CFR 177.2600
0000000
0000
4"
3.870"
4.680"
0.203"
-20° to 300°
Black
3-A Certified 18-03, FDA Compliant 21 CFR 177.1550, FDA Compliant 21 CFR 177.2600
0000000
0000

Fluoroelastomer Rubber

1

1/2

"
1.400"
1.980"
0.203"
-15° to 400°
Black
3-A Certified 18-03, FDA Compliant 21 CFR 177.2600
0000000
0000
2"
1.900"
2.520"
0.203"
-15° to 400°
Black
3-A Certified 18-03, FDA Compliant 21 CFR 177.2600
0000000
0000
2

1/2

"
2.400"
3.050"
0.203"
-15° to 400°
Black
3-A Certified 18-03, FDA Compliant 21 CFR 177.2600
0000000
00000
3"
2.900"
3.580"
0.203"
-15° to 400°
Black
3-A Certified 18-03, FDA Compliant 21 CFR 177.2600
0000000
00000
4"
3.870"
4.680"
0.203"
-15° to 400°
Black
3-A Certified 18-03, FDA Compliant 21 CFR 177.2600
0000000
00000

PTFE Plastic

1

1/2

"
1.400"
1.980"
0.203"
-100° to 500°
White
3-A Certified 20-27

00000000
0000
2"
1.900"
2.520"
0.203"
-100° to 500°
White
3-A Certified 20-27

00000000
0000
2

1/2

"
2.400"
3.050"
0.203"
-100° to 500°
White
3-A Certified 20-27

00000000
0000
3"
2.900"
3.580"
0.203"
-100° to 500°
White
3-A Certified 20-27

00000000
0000
4"
3.870"
4.680"
0.203"
-100° to 500°
White
3-A Certified 20-27

00000000
0000

Silicone Rubber

1

1/2

"
1.400"
1.980"
0.203"
-40° to 450°
Clear
3-A Certified 18-03, FDA Compliant 21 CFR 177.1550, FDA Compliant 21 CFR 177.2600
0000000
0000
2"
1.900"
2.520"
0.203"
-40° to 450°
Clear
3-A Certified 18-03, FDA Compliant 21 CFR 177.1550, FDA Compliant 21 CFR 177.2600
0000000
0000
2

1/2

"
2.400"
3.050"
0.203"
-40° to 450°
Clear
3-A Certified 18-03, FDA Compliant 21 CFR 177.1550, FDA Compliant 21 CFR 177.2600
0000000
0000
3"
2.900"
3.580"
0.203"
-40° to 450°
Clear
3-A Certified 18-03, FDA Compliant 21 CFR 177.1550, FDA Compliant 21 CFR 177.2600
0000000
0000
4"
3.870"
4.680"
0.203"
-40° to 450°
Clear
3-A Certified 18-03, FDA Compliant 21 CFR 177.1550, FDA Compliant 21 CFR 177.2600
0000000
0000