How to

Measure Threaded Pipe Size
How to

Identify and Measure Fittings
Pipe size is an industry designation, not the actual size. View information about how to measure threaded and unthreaded pipe and pipe fittings.
Right-Angle

Flow Rectangular Manifolds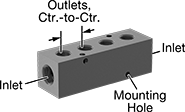 Outlets on One Side
Distribute air or fluid to multiple locations from a single supply source with these manifolds. They are also known as headers. They have mounting holes, so you can mount from the top or side.
Stainless steel manifolds have the best corrosion resistance of all our metal manifolds. They can handle a wider temperature range than other plastic and metal manifolds. 316 stainless steel manifolds have better corrosion resistance than 303 stainless steel manifolds to handle fuel and gasoline in addition to coolant and other harsh substances.
Use a plug (sold separately) to close off any unused inlets and outlets.
For technical drawings and 3-D models, click on a part number.
316 Stainless Steel—NPT Inlets × NPT Outlets
For Use

With:

Air,

Water,

Hydraulic

Fluid,

Alcohol,

Coolant,

Cutting

Oil,

Deionized

Water,

Diesel

Fuel,

Fuel

Oil,

Gasoline,

Mineral

Oil,

Nitrogen
Temperature

Range:

-100° to 500° F

Maximum

Pressure:




Air:

1,

000

psi @

72° F




Water:

5,

000

psi @

72° F


Hydraulic

Fluid:

5,

000

psi @

72° F




Alcohol,

Coolant,

Cutting

Oil,

Deionized

Water,

Diesel

Fuel,

Fuel

Oil,

Gasoline,

Mineral

Oil,

Nitrogen:

3,

000

psi @

72° F
No.

of
Outlets
Pipe
Size

Dash
Size
Pipe
Size

Dash
Size

Lg.

Wd.

Ht.

Outlet


Ctr.-to-Ctr.

Each

Outlets on One

Side—

Standard Outlet Spacing

2

1/4

04

1/8

02
1

3/4

"
1"
1"

3/4

"
00000000
000000
2

3/8

06

1/4

04
2

3/8

"
1

1/4

"
1

1/4

"

7/8

"
00000000
000000
2

1/2

08

3/8

06
2

3/4

"
1

1/2

"
1

1/2

"
1"
00000000
000000
4

1/4

04

1/8

02
3

1/4

"
1"
1"

3/4

"
00000000
00000
4

3/8

06

1/4

04
4

1/8

"
1

1/4

"
1

1/4

"

7/8

"
00000000
000000
4

1/2

08

3/8

06
4

3/4

"
1

1/2

"
1

1/2

"
1"
00000000
000000