About Paint and Ink Markers
Paint markers work well even on dirty, rusty, wet, and oily surfaces. They leave textured marks you can feel with your hand.
Ink markers work best on a clean, dry surface. Marks dry faster than paint and are smooth to the touch.
Both paint and ink markers are permanent.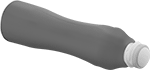 The round sponge tip allows you to apply large, clear marks with ease—even on moving objects such as boxes on a conveyor. These markers work best on clean surfaces.
Tip Size
Stroke


Wd.,

mm
For
Use On

Cap.,




oz.

Drying
Time
Application


Temp.

Range,

°F

Color
Each
Ultra Bold
24
Paper
3
Instant
40° to 90°
Fluorescent Purple
00000000
00000
Highlighters

Choose only the colors you need. These highlighters make fluorescent marks that draw attention to text and won't bleed through paper.
Cap Style
Tip
Size
Stroke


Wd.,

mm
For
Use On
Drying
Time
Application


Temp.

Range,

°F

Color
Each
Push On
Bold
3.5
Paper
Instant
10° to 140°
Fluorescent Purple
000000
00000