Multi-Directional

Traffic Control Signs






Communicate two- or four-way stops with one freestanding stop sign. Two signs interlock and attach to the post so the message is viewable from all sides. For two-sided viewing, use one sign.
Roll-Up

Traffic Safety Signs
Post these portable signs to alert drivers to temporary construction zones and then roll them up when not in use.
Mount a sign to a folding stand (sold separately). Use a stand extension (sold separately) to raise the sign an additional 12".
Receiver Posts for Freestanding Retractable Belt Barriers

Solid Base

Hollow Base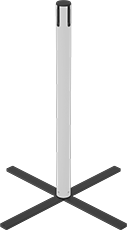 Collapsible Base

Four Connection Points
Provide an end point for a belt barrier.
These posts are connection points only and have no belt.
Posts with a hollow base have a base that can be filled with sand or water for added stability. The base weighs 4 lbs. when empty and 18 lbs. when full of water. When the base is empty, these posts are easy to move around and take apart for transport or storage. All resist weather for outdoor use, but should not be permanently placed outside.
Posts with a collapsible base have feet that fold flat together. Remove the post and collapse the base for easy transport and storage.
For technical drawings and 3-D models, click on a part number.
Color

Dia.

Material
Appearance
Environment

Ht.

Color
Material
Material
Cover
Material

Dia.

Weight,




lbs.

No.

of
Connection
Points
Each

Solid Base

Black
2"
Steel
Textured
__
38"
Black
Polyamide
Iron
Polystyrene
14"
6
4
00000000
0000000
Black
2

1/2

"
Steel
Glossy
__
38"
Black
Polyamide
Iron
Steel
14"
14
4
000000000
000000
Black
2

1/2

"
Steel
Textured
__
38"
Black
Polyamide
Iron
Steel
14"
14
4
000000000
000000
Black
2

1/2

"
PVC
__
__
38"
Black
Polyamide
Iron
__
14"
14
4
000000000
000000
Red
2

1/2

"
PVC
__
__
38"
Black
Polyamide
Iron
__
14"
14
4
000000000
000000
Silver
2"
Steel
Polished
__
38"
Black
Polyamide
Iron
Polystyrene
14"
6
4
00000000
000000
Silver
2

1/2

"
Steel
Polished
__
38"
Black
Polyamide
Iron
Steel
14"
14
4
000000000
000000
Silver
2

1/2

"
Steel
Brushed
__
38"
Black
Polyamide
Iron
Steel
14"
14
4
000000000
000000
White
2

1/2

"
PVC
__
__
38"
Black
Polyamide
Iron
__
14"
14
4
000000000
000000
Yellow
2"
Steel
Glossy
__
38"
Black
Polyamide
Iron
Polystyrene
14"
6
4
000000000
000000
Yellow
2"
PVC
__
Outdoor
38"
Black
Polyamide
Rubber
__
19"
2
4
00000000
000000
Yellow
2

1/2

"
Steel
Glossy
__
38"
Black
Polyamide
Iron
ABS
14"
14
4
000000000
000000
Yellow
2

1/2

"
PVC
__
__
38"
Black
Polyamide
Iron
__
14"
14
4
000000000
000000

Hollow Base

Black
2

1/2

"
PVC
__
Outdoor
38"
Black
Polyamide
Plastic
__
15"
4
4
000000000
000000
Red
2

1/2

"
PVC
__
Outdoor
38"
Black
Polyamide
Plastic
__
15"
4
4
000000000
000000

Collapsible Base

Yellow
2

1/2

"
PVC
__
__
38"
Black
Polyamide
Iron
__
30"
5
4
000000000
000000