Masonry Hammers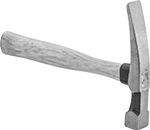 Plain Grip with
Smooth-Face
Chisel Head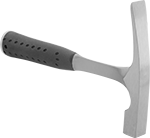 Textured Grip with
Smooth-Face
Chisel Head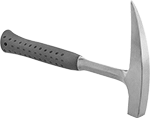 Textured Grip with Pick Head
Pry, shape, chip, and cut masonry and stone. For replacement handles, see Hickory Hammer Handles.
Smooth-face chisel-head hammers are also known as bricklayers', masons', or tilesetters' hammers.
Pick-head hammers are also known as geologists' hammers and are commonly used to split and chip rocks.
Hickory and ash handles resist vibration. Steel handles are stronger than wooden handles but have less vibration resistance.
Textured and ribbed grips provide slip resistance.
Head


Wt.,

lbs.

Face

Lg.

Face


Wd.

Blade


Wd.

Face
Material
Overall


Lg.

Handle
Replaceable
Each

Plain Grip with

Smooth-Face

Chisel Head

Hickory Handle

1

15/16

"

15/16

"
1

1/8

"
Steel
10

3/4

"
Replaceable
000000
000000
1

1/2

1

1/16

"

15/16

"
1

3/8

"
Steel
11

1/4

"
Replaceable
000000
00000

Textured Grip with

Smooth-Face

Chisel Head

Steel Handle

1

13/16

"

13/16

"
1"
Steel
11"
Nonreplaceable
0000000
00000
1

1/4

15/16

"

7/8

"
1

1/8

"
Steel
11"
Nonreplaceable
000000
00000
1

1/2

15/16

"

7/8

"
1

1/4

"
Steel
11"
Nonreplaceable
000000
00000

Textured Grip with

Smooth-Face

Pick Head

Steel Handle

1

3/8

7/8

"

13/16

"
__
Steel
12

3/4

"
Nonreplaceable
000000
00000