DFARS (Defense Acquisition Regulations Supplement)

DFARS

(Defense

Acquisition
Regulations

Supplement)
For Use With

For Use With
Show
For Use With

For Use With
Hide
Warning: Products have one, but not necessarily all, of the selected characteristics.
Container Type

Container Type
Spill Capacity

Spill Capacity
Acid and Base
Spill-Control

Kits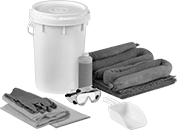 Plastic Pail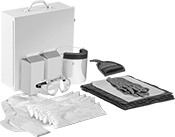 These kits have everything you need to safely clean up acid and base spills. All kits include sorbents and personal protective equipment. Keep them on hand in labs, warehouses, and other areas where chemicals are used and stored.
The wall-mount metal cabinets guarantee your kits are always in the same spot. Not for use with hydrofluoric acid.
Combination acid and base kits in a plastic pail have pH test strips to detect whether your spill is an acid or a base.
Spill


Cap.,




gal.

Size,




gal.

Type
Mounting
Fasteners
Included
Includes
Each

For Use With Acids

4.5
6.5
Plastic Pail
__
Ten 15" × 19" Sorbent Pads
Two 3" × 48" Sorbent Socks
One 2-lb. Shaker Bottle of Powder Acid Neutralizer
One Pair of Nitrile Gloves
One Pair of Goggles
One Scoop
Two Disposal Bags
0000000
0000000

For Use With

Acids,

Bases

1.5
__
Wall-Mount Metal Cabinet
Yes
Five 15" × 18" Sorbent Pads
Six 10" × 10" Sorbent Pillows
Two 64-oz. Cartons of Granular Sorbent
One Pair of Nitrile Gloves
One Pair of Latex Boot Covers
One Pair of Goggles
One Face Shield
One Apron
One Miniature Broom and Dust Pan
Two Disposal Bags
0000000
000000
7
5
Plastic Pail
__
Fifteen 12" × 12" Sorbent Pads
Three 3" × 48" Sorbent Socks
One 32-oz. Bottle of Liquid Acid Neutralizer
One 32-oz. Bottle of Liquid Base Neutralizer
One pH Testing Kit
One Pair of Nitrile Gloves
One Pair of Goggles
One Disposal Bag
0000000
000000
| | | | |
| --- | --- | --- | --- |
| Refill for Wall-Mount Metal Cabinet Spill-Control Kit | 0000000 | Each | 0000000 |