For Use With

For Use With
Show
For Use With

For Use With
Hide
Warning: Products have one, but not necessarily all, of the selected characteristics.
REACH (Registration, Evaluation, Authorization and Restriction of Chemicals)

REACH

(Registration,




Evaluation,

Authorization
and Restriction of

Chemicals)
DFARS (Defense Acquisition Regulations Supplement)

DFARS

(Defense

Acquisition

Regulations

Supplement)
RoHS (Restriction of Hazardous Substances)

RoHS

(Restriction

of
Hazardous

Substances)
Paper Floor Protectors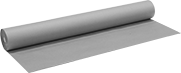 Similar to heavy kraft paper, this temporary floor protector offers moisture resistance. Keep in place with masking tape.
Wd.

Lg.

Thick.,


mil
Color
Each

For Use With Carpets and Floors

35"
166'
8
Beige
0000000
000000
Adhesive-Back

Film Floor Protectors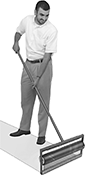 Film with Optional Applicator
Cover floors during painting and remodeling work. Adhesive on the back of this tear-resistant film keeps it in place, even in high traffic areas. Leave it for up to 30 days without harming floors.
Protectors for carpets should not be used on wool and other natural fiber carpets.
Optional applicators (sold separately) reduce installation time and work with 200-ft. and 500-ft. long protectors only.
Wd.

Lg.

Thick.,


mil
Material
Color
Clarity
Each

For Use With Carpets

21"
35'
3
Plastic
Clear
Clear
00000000
000000
24"
200'
3
Plastic
Clear
Clear
00000000
00000
30"
200'
3
Plastic
Clear
Clear
00000000
000000
36"
200'
3
Plastic
Clear
Clear
00000000
000000
36"
500'
3
Plastic
Clear
Clear
00000000
000000
48"
200'
3
Plastic
Clear
Clear
00000000
000000
48"
500'
3
Plastic
Clear
Clear
00000000
000000