RoHS (Restriction of Hazardous Substances)

RoHS

(Restriction

of
Hazardous

Substances)
Spill Capacity

Spill Capacity
REACH (Registration, Evaluation, Authorization and Restriction of Chemicals)

REACH

(Registration,




Evaluation,

Authorization
and Restriction of

Chemicals)
DFARS (Defense Acquisition Regulations Supplement)

DFARS

(Defense

Acquisition

Regulations

Supplement)
Work Surface
Leak-Resistant

Sorbents
These sorbents have a coated underside to protect work surfaces from stains and harsh chemicals.
Use rolls to protect large surfaces; trim them to the length that you need.
Paper Floor Protectors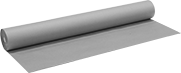 Similar to heavy kraft paper, this temporary floor protector offers moisture resistance. Keep in place with masking tape.
Wd.

Lg.

Thick.,


mil
Color
Each

For Use With Carpets and Floors

35"
166'
8
Beige
0000000
000000