Performance Properties

Performance Properties
Show
Performance Properties

Performance Properties
Hide
Warning: Products have one, but not necessarily all, of the selected characteristics.
| | |
| --- | --- |
| | |
REACH (Registration, Evaluation, Authorization and Restriction of Chemicals)

REACH

(Registration,




Evaluation,

Authorization
and Restriction of

Chemicals)
RoHS (Restriction of Hazardous Substances)

RoHS

(Restriction

of
Hazardous

Substances)
DFARS (Defense Acquisition Regulations Supplement)

DFARS

(Defense

Acquisition

Regulations

Supplement)
Metal-

and

X-Ray-Detectable

Antifatigue Mats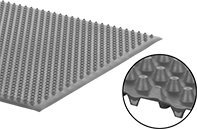 Cushion where you stand without contaminating your line in food and pharmaceutical plants. Made with metal and chemical additives, these mats set off metal detectors and X-rays if any part falls into your batch, so it won't leave your facility. This helps you comply with Hazard Analysis and Critical Control Point (HACCP) programs for food safety. FDA compliant, they're safe to touch food. They also come in multiple colors to color-code your lines and prevent cross contamination, helping you meet Good Manufacturing Practices (GMPs).
Projections on both sides of the mat cushion your feet and create traction, reducing fatigue and strain and stopping you from slipping as you work. You can also use these mats to line utility carts and shelves to grip objects in place. The projections are spaced to let air and liquid flow, so bacteria won't grow between them. Made of durable EPDM rubber, these mats resist scuffs and scrapes. They also stand up to weather and washdowns with harsh sanitizers, cleaners, and other chemicals.
Width
Length
Thickness
Mat
Hardness
Material
Edge
Profile
For Use
Outdoors
Specifications Met
Color
Each

Projections

21"
27"

5/8

"
Firm
EPDM Rubber
Flat
Yes
FDA Compliant 21 CFR 177.2600

Blue/Black
0000000
000000
21"
27"

5/8

"
Firm
EPDM Rubber
Flat
Yes
FDA Compliant 21 CFR 177.2600

Red/Black
0000000
00000
21"
27"

5/8

"
Firm
EPDM Rubber
Flat
Yes
FDA Compliant 21 CFR 177.2600

White/Black
0000000
00000
21"
27"

5/8

"
Firm
EPDM Rubber
Flat
Yes
FDA Compliant 21 CFR 177.2600

Yellow/Black
0000000
00000