Metal-Detector-Grade

Slippery UHMW Polyethylene Sheets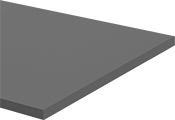 Color:

Blue
Temperature

Range:

-235° to 175° F

Tensile

Strength:

5,

800 psi

(Good)

Impact

Strength:

No Break

(Excellent)

Hardness:

Durometer 66D

(Medium)

For Use

Outdoors:

No
Specifications

Met:

FDA Compliant 21 CFR

177.

1520
If a chip of this material breaks off, it can be located by metal detectors to reduce contamination risks. Often used as machine guards and liners in food processing lines, these UHMW sheets have excellent impact resistance and a slippery surface that prevents sticking and reduces wear.
For technical drawings and 3-D models, click on a part number.
Metal-Detectable

Wear-

and

Chemical-Resistant

PEEK Sheets and Bars
Common in food and pharmaceutical plants, these PEEK sheets and bars help you identify contaminated batches. They contain metal and chemical additives that set off metal detectors and show up on X-rays if they fall into your line, which help you comply with Hazard Analysis and Critical Control Point (HACCP) programs. All are bright blue in color, so you can find and remove them quickly. They're also FDA compliant for direct contact with food.
These PEEK sheets and bars stand up to wear from abrasion and repetitive processes. They're also resistant to extended contact with water, high-temperature steam, and clean-in-place (CIP) cycles with harsh cleaners and sanitizers. Due to their light weight, they're commonly substituted for metal parts in high-stress or chemical-processing applications where weight is important.
Color:

Blue
Temperature

Range:

0° to 480° F

Tensile

Strength:

15,

000 psi

(Excellent)

Impact

Strength:

Not Rated

Hardness:

Rockwell M106

(Extra

Hard)

For Use

Outdoors:

No
Specifications

Met:

FDA Compliant 21 CFR

177.2415,

FDA Compliant 21 CFR

178.

3297
Color:

Blue
Temperature

Range:

0° to 480° F

Tensile

Strength:

15,

000 psi

(Excellent)

Impact

Strength:

Not Rated

Hardness:

Rockwell M106

(Extra

Hard)

For Use

Outdoors:

No
Specifications

Met:

FDA Compliant 21 CFR

177.2415,

FDA Compliant 21 CFR

178.

3297