Metal-Detectable

Flexible Shaft Couplings

Hubs and Spider Shown Assembled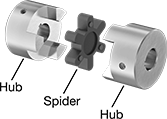 (Each
Component Sold
Separately)
Designed for use in food-processing applications, where a fraying spider could contaminate a batch, these couplings have a metal-detectable rubber spider. Small pieces of metal inside the rubber will set off a metal detector, alerting you to the problem. In addition to the rubber spiders, these couplings have 303 stainless steel hubs, so they resist rusting in wet and damp areas common to food production. Since they aren't made of FDA listed materials, however, they shouldn't come in direct contact with food.
Also known as Lovejoy® and jaw couplings, these three-piece couplings reduce shock, handle minor shaft misalignment, and do not require lubrication. A set screw in each hub bites into your shafts to hold the coupling in place. Because the two hubs interlock with the spider, these couplings will continue to work even if the spider breaks or wears away. This fail-safe design gives you time to shut down your equipment before damage occurs to other components.
A complete coupling consists of two hubs and one spider (all components are sold separately).
Metal-impregnated Buna-N rubber spiders are best for jobs with frequent starting, stopping, and reversing. The most commonly used spider material, they resist chemicals and damp vibration.
Metal-impregnated Hytrel rubber spiders are best for systems with continuous motion. They handle higher torque than Buna-N spiders and have better chemical resistance. They are not recommended for systems with starting, stopping, and reversing.
303 Stainless Steel Hubs and Metal-Impregnated Buna-N Rubber Spiders
Metal-Impregnated

Buna-N

Rubber Spiders

O'all




Lg.

OD
For
Motion
Type
For
Shaft


Dia.

Each

Max.




Speed,


rpm

Max.Torque,




in.-lbs.

Parallel
Angular
Each
2

1/8

"
1

3/4

"
Continuous, Forward/Reverse, Start/Stop
000000
000000
3,600
80
0.015"
1°
0000000
000000
2

1/2

"
2

1/8

"
Continuous, Forward/Reverse, Start/Stop
00000000
00000
3,600
185
0.015"
1°
000000
00000
3

1/2

"
2

17/32

"
Continuous, Forward/Reverse, Start/Stop
00000000
000000
3,600
415
0.015"
1°
0000000
00000
54mm
45mm
Continuous, Forward/Reverse, Start/Stop
00000000
00000
3,600
80
0.015"
1°
0000000
00000
64mm
54mm
Continuous, Forward/Reverse, Start/Stop
00000000
000000
3,600
185
0.015"
1°
000000
00000
89mm
65mm
Continuous, Forward/Reverse, Start/Stop
00000000
000000
3,600
415
0.015"
1°
0000000
00000
303 Stainless Steel Hubs and Metal-Impregnated Hytrel Rubber Spiders
Metal-Impregnated

Hytrel Rubber Spiders

O'all




Lg.

OD
For
Motion
Type
For
Shaft


Dia.

Each

Max.




Speed,


rpm

Max.Torque,




in.-lbs.

Parallel
Angular
Each
2

1/8

"
1

3/4

"
Continuous, Forward/Reverse, Start/Stop
000000
000000
3,600
240
0.015"
1°
0000000
000000
2

1/2

"
2

1/8

"
Continuous, Forward/Reverse, Start/Stop
00000000
00000
3,600
565
0.015"
1°
0000000
00000
3

1/2

"
2

17/32

"
Continuous, Forward/Reverse, Start/Stop
00000000
000000
3,600
1,245
0.015"
1°
0000000
000000
54mm
45mm
Continuous, Forward/Reverse, Start/Stop
00000000
00000
3,600
240
0.015"
1°
0000000
00000
64mm
54mm
Continuous, Forward/Reverse, Start/Stop
00000000
000000
3,600
565
0.015"
1°
0000000
00000
89mm
65mm
Continuous, Forward/Reverse, Start/Stop
00000000
000000
3,600
1,245
0.015"
1°
0000000
000000