Metal-Detectable

Flexible Shaft Couplings

Hubs and Spider Shown Assembled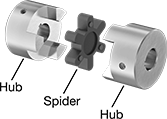 (Each
Component Sold
Separately)
Safely connect slightly misaligned shafts near food lines—the spider on these couplings contains metal, so it'll trigger a metal detector if a piece frays off and contaminates your batch. The hubs are made of 303 stainless steel to resist rusting in wet conditions common to food plants. However, these couplings shouldn't directly touch food, since they're not FDA compliant. If the spider fails, the hubs will interlock, giving you time to shut down equipment before other components break. You don't need to lubricate these couplings.
Also called Lovejoy® and jaw couplings, a complete coupling requires two hubs and one spider (all sold separately).
Hubs attach to the end of your shaft and have a set screw that bites into the shaft to hold the coupling in place.
Spiders cushion between the two hubs to reduce shocks and handle minor shaft misalignment. Metal-impregnated Buna-N spiders are the most commonly used and are good for applications that start, stop, and reverse often. They also dampen vibration and resist some chemicals. Metal-impregnated Hytrel spiders run at higher torque and resist chemicals better than Buna-N spiders. However, they shouldn't be used in applications that start, stop, and reverse frequently.
For technical drawings and 3-D models, click on a part number.
303 Stainless Steel Hubs and Metal-Impregnated Buna-N Rubber Spiders
Metal-Impregnated

Buna-N

Rubber Spiders

O'all




Lg.

OD
For
Motion
Type
For
Shaft


Dia.

Each

Max.




Speed,


rpm

Max.Torque,




in.-lbs.

Parallel
Angular
Each
2

1/8

"
1

3/4

"
Continuous, Forward/Reverse, Start/Stop
000000
000000
3,600
80
0.015"
1°
0000000
000000
2

1/2

"
2

1/8

"
Continuous, Forward/Reverse, Start/Stop
00000000
000000
3,600
185
0.015"
1°
000000
00000
3

1/2

"
2

17/32

"
Continuous, Forward/Reverse, Start/Stop
00000000
000000
3,600
415
0.015"
1°
0000000
00000
54mm
45mm
Continuous, Forward/Reverse, Start/Stop
00000000
00000
3,600
80
0.015"
1°
0000000
00000
64mm
54mm
Continuous, Forward/Reverse, Start/Stop
00000000
000000
3,600
185
0.015"
1°
000000
00000
89mm
65mm
Continuous, Forward/Reverse, Start/Stop
00000000
000000
3,600
415
0.015"
1°
0000000
00000
303 Stainless Steel Hubs and Metal-Impregnated Hytrel Rubber Spiders
Metal-Impregnated

Hytrel Rubber Spiders

O'all




Lg.

OD
For
Motion
Type
For
Shaft


Dia.

Each

Max.




Speed,


rpm

Max.Torque,




in.-lbs.

Parallel
Angular
Each
2

1/8

"
1

3/4

"
Continuous, Forward/Reverse, Start/Stop
000000
000000
3,600
240
0.015"
1°
0000000
000000
2

1/2

"
2

1/8

"
Continuous, Forward/Reverse, Start/Stop
00000000
000000
3,600
565
0.015"
1°
0000000
00000
3

1/2

"
2

17/32

"
Continuous, Forward/Reverse, Start/Stop
00000000
000000
3,600
1,245
0.015"
1°
0000000
000000
54mm
45mm
Continuous, Forward/Reverse, Start/Stop
00000000
00000
3,600
240
0.015"
1°
0000000
00000
64mm
54mm
Continuous, Forward/Reverse, Start/Stop
00000000
000000
3,600
565
0.015"
1°
0000000
00000
89mm
65mm
Continuous, Forward/Reverse, Start/Stop
00000000
000000
3,600
1,245
0.015"
1°
0000000
000000