Metal Pipe Insulation Jacketing

Tube

Elbow


Stucco Embossed
Sheet/Strip

Guard insulation from heavy impact and chemical exposure. This metal jacketing is corrosion resistant and often used outdoors. Install with banding (not included).
Stainless steel jacketing is suitable for washdown applications.
Tubes are coated in a film that creates a moisture barrier.
Smooth sheets are easy to clean.
Stucco-embossed sheets conceal dents and scratches.
Corrugated sheets are extra strong.
Pipe Insulation Banding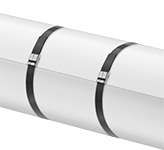 Save installation time with banding that's ready to use. It has an easy-to-close fastener on one end.
Blue banding can be used to identify asbestos-free insulation.
ID

Thick.

Wd.

Material
Flexibility
Choose
a Color
Each
3

1/2

"
0.02"

1/2

"
304 Stainless Steel
Flexible
000000
00000
4"
0.02"

1/2

"
304 Stainless Steel
Flexible
000000
0000
4

1/2

"
0.02"

1/2

"
304 Stainless Steel
Flexible
000000
0000
5"
0.02"

1/2

"
304 Stainless Steel
Flexible
000000
0000
5

1/2

"
0.02"

1/2

"
304 Stainless Steel
Flexible
000000
0000
6

1/2

"
0.02"

1/2

"
304 Stainless Steel
Flexible
000000
0000
7

1/2

"
0.02"

1/2

"
304 Stainless Steel
Flexible
000000
0000
8

1/2

"
0.02"

1/2

"
304 Stainless Steel
Flexible
000000
0000
9

1/2

"
0.02"

1/2

"
304 Stainless Steel
Flexible
000000
0000
10

1/2

"
0.02"

1/2

"
304 Stainless Steel
Flexible
0000000
0000
11

1/2

"
0.02"

1/2

"
304 Stainless Steel
Flexible
0000000
0000
12

1/2

"
0.02"

1/2

"
304 Stainless Steel
Flexible
0000000
0000
16"
0.02"

1/2

"
304 Stainless Steel
Flexible
0000000
0000
18"
0.02"

1/2

"
304 Stainless Steel
Flexible
0000000
00000