About
Copper,

Brass,

and Bronze
Brass Tubing

Frequently used in a wide range of plumbing applications, this tubing holds up well in mildly corrosive environments. Tubing is seamless, so it has a smooth interior for unrestricted flow.
Temperature

Range:

-20° to 150° F

Compatible with Solder Connect Tube Fittings

Bendable:

Yes
Ultra-Formable

260 Brass Round Tubes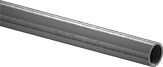 The most formable brass we offer, 260 offers better weldability than 300 series brass but it's not as machinable. Sometimes called cartridge brass, it's commonly used for ammunition casings, radiator components, and decorative door hardware.
Tubes with 0.014" and 0.45 mm wall thicknesses allow you to create telescoping tubes; each tube fits inside the next larger size.
For technical drawings and 3-D models, click on a part number.
Yield

Strength:

Not Rated

Hardness:

Not Rated

Temper:

H02 (

1/2

Hard)

to H03 (

3/4

Hard)



Heat

Treatable:

No
Specifications

Met:

ASTM B135
OD,


mm
OD Tolerance


Range,

mm

ID,


mm

Pkg.




Qty.

Pkg.

0.45

mm Wall

Thick.

(-0.025 to 0.025 mm Tolerance)

2
-0.051 to 0.051
1.1
4
00000000
00000
3
-0.051 to 0.051
2.1
4
00000000
0000
4
-0.051 to 0.051
3.1
3
00000000
0000
5
-0.051 to 0.051
4.1
3
00000000
0000
6
-0.051 to 0.051
5.1
2
00000000
0000
7
-0.051 to 0.051
6.1
2
00000000
0000
8
-0.051 to 0.051
7.1
2
00000000
0000
9
-0.051 to 0.051
8.1
1
00000000
0000
10
-0.051 to 0.051
9.1
1
00000000
0000