Miniature LED
Adjustable-Arm

Lights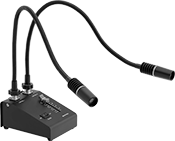 Though not as bright as our miniature fiber-optic lights, these lights have built-in LEDs that last longer, are more efficient, and are more affordable. Use them to illuminate small and microscopic parts. They have a daylight appearance that highlights white/blue tones, which is good for inspecting. These lights cannot be sold to California due to local energy efficiency requirements.
Arm
Reach
Head


Dia.

Lg.

Wd.

Brightness,


lumens
Light
Appearance
Wattage
Arm
Material
Color
Light
Setting
Voltage
Electrical
Connection
Type
Cannot
Be
Sold To
Each

Built-In

LED

Bulbs—

Weighted Base

23

1/4

"

7/8

"
5

1/2

"
4

1/4

"
240
Daylight (6,500K)
6W
Steel
Black
Adjustable
120V AC, 240V AC
Two-Prong Plug
CA
0000000
0000000
Miniature
Fiber-Optic

Adjustable-Arm

Lights

Create a high-intensity lighting system for inspecting small and microscopic parts. To create a complete lighting system, you need a fiber-optic light, fiber-optic cable, and an adapter to connect the cable to the light. They cast a neutral white light often found in workspaces.
Add a probe to 1/8" dia. fiber-optic cables to illuminate small areas that have recessed or deep orifices.
Pair a focusing lens with a positionable cable to create a concentrated beam of light on your work.
Microscope Illuminators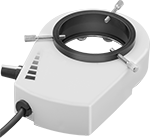 Microscope Illuminator
Maximize your view by adding 360° of shadow-free light.
Illuminators that cannot be sold to Canada are restricted by local regulatory limits on mercury content.
Bulb
Type
Bulb


Life,




hrs.

Light Intensity
Adjustment
Range

Lg.

ID
OD
Voltage
Plug
Type
Cord


Lg.,




ft.

Cannot
Be
Sold To
Each
Each
Fluorescent
7,500
__
5

1/2

"
2.35"
3

1/2

"
120V AC
Three Prong
8
Canada
00000000
0000000
00000000
0000000
LED
50,000
5%-100%
5

1/2

"
2.35"
3

1/2

"
120V AC
Three Prong
12
__
00000000
000000
000000
00