Modular Mini
DIN-Rail

Mount Terminal Blocks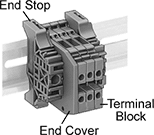 Add as many circuits as you need with these terminal blocks and accessories. The terminal blocks clip onto DIN 2 rail. Terminal blocks meet IP20 to protect connections from objects larger than 12.5 mm, such as fingers.
Spring-clamp terminals make wire installation faster than screw-clamp terminals. Push the wire into the spring clamp for a secure connection that withstands vibration.
Blocks with fuse holder allow inline fuse wiring to protect components and wires from short-circuit damage.
End covers fit on the open side of a block to prevent accidental contact with a live circuit.
End stops mount at the end of a group of blocks to prevent movement.
Jumpers connect terminals on adjacent blocks of the same width. Noninsulated jumpers can be cut to size.
For technical drawings and 3-D models, click on a part number.