Ultra-Chemical-Resistant

Threaded

On/Off

Valves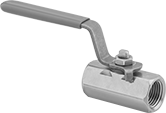 The most chemical-resistant threaded valves we offer, these have a PTFE seal and an alloy body that can withstand extremely aggressive and corrosive chemicals, such as methyl ethyl ketone and toluene. They are standard port, so they slightly restrict flow.
Monel valves are more corrosion resistant than Alloy 20 valves.
Flow coefficient (Cv) is the amount of water (in gallons per minute) at 60° F that will flow through a fully open valve with a difference of 1 psi between the inlet and the outlet.
For technical drawings and 3-D models, click on a part number.
Valve

Type:

Ball

For Use

With:

Acetone,

Air,

Carbon

Dioxide,

Diesel

Fuel,

Gasoline,

Kerosene,

Methyl Ethyl

Ketone,

Nitrogen,

Salt

Water,

Soap

Solutions,

Sodium

Hydroxide,

Toluene,

Water,

Xylene
Ball

Material:

Monel
Seal

Material:

PTFE Plastic
Seat

Material:

PTFE Plastic