Connection Type

Connection Type
Show
Wire Lead Length

Wire Lead Length
Cartridge Material

Cartridge Material
Connection Gender

Connection Gender
DFARS (Defense Acquisition Regulations Supplement)

DFARS

(Defense

Acquisition
Regulations

Supplement)
Wire Lead Insulation Material

Wire Lead Insulation Material
3D Printer

Extruder Heating Elements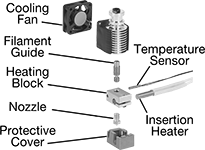 V6 Heating
Element Components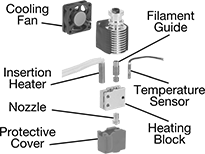 Volcano Heating Element Components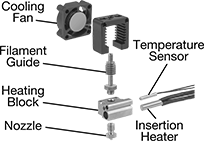 Mosquito Heating Element Components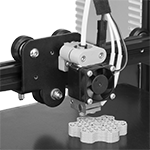 Replace damaged heating elements in your 3D printer, or switch them out to print at a faster speed or higher temperature. Also known as hotends, these heating elements receive filament from an extruder, melt it, and then pass it through a nozzle onto the part being printed. They are compatible with most fused filament fabrication (FFF) 3D printers. Changes to the heating element or temperature cartridge will also require a software update, or your printer may overheat.
Non-Bonding Heat Transfer Compounds

Heat Transfer Compound
Before installing printer components onto the heating block, coat the mounting holes with non-bonding heat transfer compounds. Also known as thermal paste, these compounds transfer heat to temperature sensors, which improves accuracy. They also keep components from sticking to the heating block, making them easier to remove.
Size,




oz.

Type
Chemical

Max.

Temp.

Thermal Conductivity
Color
Includes
Compatible
With
Each
0.2
Syringe
Boron Nitride
850° C

1562° F

31.4 W/m-K @ 212° F
White
Three Applicator Brushes
Aluminum, Brass, Copper, Iron, Nickel, Stainless Steel, Steel, Titanium
0000000
000000
Temperature Sensors (Ungrounded)

Temperature Sensor
Temperature sensors measure the temperature of the heating block, convert it into an electrical signal, and send it to the printer controller. This tells the printer when the heating element is warmed up and ready to print, and helps maintain a consistent temperature throughout the printing process. These sensors are also known as thermistor cartridges. When choosing your sensor, make sure the maximum temperature of your heating element does not exceed the maximum temperature of the sensor.
Temp.

Range

Dia.,


mm

Lg.,


mm
Material

Lg.

Insulation
Material
Includes
Each
-50° to 285° C
-58° to 545° F
3
15
Copper
50 mm
Fiberglass
One 1-m Lg. Quick-Disconnect Cable (Molex Female 2 Pin × Standard Male 2 Pin)
0000000
00000