DisplayPort Cords
Often used to connect multiple monitors to a single computer, these cords send video and audio to a display device. Shielding blocks signal interference from nearby equipment and devices.
HDMI Video Cords
Send high-definition signals to monitors, TVs, and projectors.
Ultra-flexible cords are highly bendable and make tighter turns than flexible cords.
Cords with Ethernet capability allow an Ethernet-enabled device to share its connection with another device.
Cords with a built-in repeater extend the signal to maintain digital quality over long transmission distances.
HDMI Splitters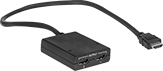 With Two Output Connections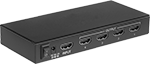 With Four Output Connections
Play audio and 4K video from a single source on multiple displays. These HDMI splitters are handy for classrooms, conference rooms, factory floors, and trade shows. To reach more displays, link multiple splitters together—this is known as a daisy chain.
Input
Output
Height
Width
Depth
Housing
Material
Color
For
Video
Resolution
Current
Voltage
Cord


Length,




ft.

Power
Cord


Length,

ft.

Plug
Type
NEMA
Style
Specifications
Met
Each

HDMI Female × HDMI Male

1
2

5/8

"
2"
2

1/4

"
ABS Plastic
Black
3840 × 2160
0.2A
240V AC
1

1/2

4
Two Prong
1-15
CE Marked

0000000
000000

HDMI Female × HDMI Female

1
4

7/8

"
6

1/8

"
2

3/4

"
Steel
Black
3840 × 2160
0.4A
240V AC
__
4
Two Prong
1-15
CE Marked

0000000
00000