Transmit data between computers and other devices that have different USB sizes or styles. All USB adapters are backward compatible, so they work with cords and connectors that meet the same or a lower USB standard.
90° elbow adapters fit flush against equipment, so they're good for tight spaces.
Reversible adapters can be plugged in regardless of which side is up.

Check your indoor air quality (IAQ) by measuring the amount of particles present. These counters are often used to monitor dust levels in workshops, check for particles in classrooms, and measure filter efficiency in HVAC systems. The sensor probe detects and identifies particles of six different sizes, helping you confirm that your clean room complies with ISO Class requirements. First, use the zero count filter to establish a baseline before taking a sample. Then, either measure the amount of air particles detected within a set time range or the amount of air particles detected within a certain air volume. Counters store up to 10,000 readings in their internal memory, and you can transfer data to your computer via Ethernet or USB connection—no special software required. Compact, lightweight, and battery powered, these counters are portable and able to operate in tight spaces. They're CE marked as compliant with European health, safety, and environmental standards.
Measures
Measurement
Precision
Flow


Rate,


cfm
Temperature


Range,




°F

Features
Includes
Specifications
Met

Life,




hrs.

Charger
Included
Batteries
Included
Each
Air Particles By Volume, Air Particles Over Time
0.3 microns
0.5 microns
1 micron
2 microns
5 microns
10 microns
0.1
50° to 100°
Backlit Display
Isokinetic Sensor Probe
Memory Storage
Carrying Case
Ethernet Cable
Filter Adapter
Protective Cap
USB Cable
Zero Count Filter
CE Marked, ISO 21501, JIS B 9921
10
Yes
Yes
0000000
000000000
Digital Radiation Detectors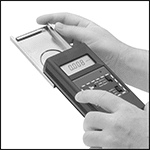 With Optional Wipe Test Plate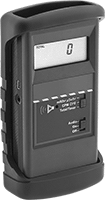 Detects lower levels of radiation than our standard detector. Measurements are displayed on an easy-to-read LCD. The unit has a protective rubber casing. A flashing red light with audio beep indicates the presence of alpha, beta, gamma, and X-ray radiation.
Use this detector alone to measure radiation in the air, or use it with the optional wipe test plate and sample collection wipes (sold separately) to measure radiation on surfaces. For surface testing, use a wipe on a wet or dry surface, place the wipe in the wipe test plate, and slide the plate onto the detector.
Vibration-Monitoring

Kits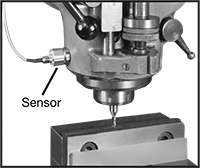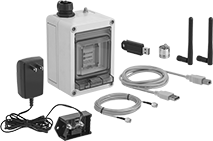 Keep machinery running smoothly by monitoring its health and status from your computer. Often used with electric motors, pumps, and lathes, these kits measure changes in vibration and temperature—identifying equipment problems and potential failures before they occur. Plug in the sensor, set your thresholds, and view data directly on your screen. You'll also receive email notifications when vibrations move beyond your specified range, making them good for preventative maintenance. These sensors are 20 times faster than our other vibration monitors, and they don't require devices such as programmable logic controllers (PLCs) to operate.
Sensors mount directly to your equipment. Use the magnetic base for quick installation, or use the threaded hole for a more permanent setup. Once the sensor is hooked up, you can either wire it directly to the receiver or connect it to the wireless transmitter to view data remotely.
Kits with a USB connection link only to your computer for direct and easy monitoring.
No.

of
Sensors
Included
Vibration


Range, g

Temp.




Range,




°F

Frequency


Range,


Hz
Housing


Ht.

Housing


Dia.

Mount.

Hole
Thread
Size
Cord


Lg.,




ft.

Ht.

Wd.

Dp.

Ht.

Wd.

Dp.

Voltage
Software
Included
Includes
Each

USB Connection

1
0-102
-40° to 257°
10-21,000

11/16

"

3/4

"
6-32
10
5

1/4

"
3

3/4

"
3

1/4

"

3/4

"
3"
1

1/2

"
24V DC
Yes
Two Antennas
0000000
000000000
4
0-102
-40° to 257°
10-21,000

11/16

"

3/4

"
6-32
10
7"
7

1/4

"
4

1/2

"

3/4

"
3"
1

1/2

"
24V DC
Yes
Eight Antennas
0000000
00000000