Motor Cleaners

Keep electric motors and generators working efficiently by removing dirt, grease/oil, gum, and wax. These cleaners are NSF registered K2 for use in food-processing environments.
Solvent


Power,


Kb
Container


Size,




oz.

Harshness
For
Use
On
For
Removing

Temp.




Range,




°F

Dielectric
Strength
Specifications
Met

1-11

12-Up

Aerosol

Can—

Nonflammable

(Solvent Based)

129
18
Harsh
Aluminum, Brass, Bronze, Ceramic, Chrome, Copper, Galvanized Steel, Stainless Steel, Steel
Dirt, Grease/Oil, Gum, Wax
-20° to 450°
15,000V
NSF Registered K2

0000000
000000
000000
CLR Multipurpose

Cleaner/Scale

Removers

Jug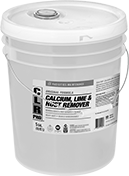 Pail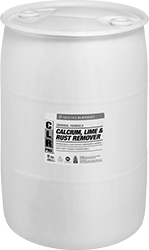 Drum
Clean rust and lime deposits such as calcium and scale from HVAC systems, coolers, tools, and vehicles. These removers are nonabrasive and noncorrosive, so they won't damage surfaces. Derived from plants, they don't contain toxic chemicals such as bleach, ammonia, alcohol, or phosphates. These removers break down quickly, so they won't pollute air and water. They're NSF registered for use in food- and beverage-processing facilities, and meet the EPA Safer Choice standard for environmentally friendly ingredients. They also help you meet LEED Green Building standards.
Type

Size,




gal.

Composition
Harshness
For Use On
For Removing
Specifications Met
Each

Liquid Concentrate

Jug
1
Water Based
Moderate
Aluminum, Brass, Concrete, Copper, Fiberglass, Glass, Linoleum, Painted Surfaces, Plastic, Porcelain, Stainless Steel, Steel, Stone, Vinyl
Lime Stains, Rust
EPA Safer Choice Standard, NSF Registered A3
0000000
000000
Pail
5
Water Based
Moderate
Aluminum, Brass, Concrete, Copper, Fiberglass, Glass, Linoleum, Painted Surfaces, Plastic, Porcelain, Stainless Steel, Steel, Stone, Vinyl
Lime Stains, Rust
EPA Safer Choice Standard, NSF Registered A3
0000000
000000
Drum
55
Water Based
Moderate
Aluminum, Brass, Concrete, Copper, Fiberglass, Glass, Linoleum, Painted Surfaces, Plastic, Porcelain, Stainless Steel, Steel, Stone, Vinyl
Lime Stains, Rust
EPA Safer Choice Standard, NSF Registered A3
0000000
00000000