Pedestal Fan Motors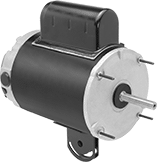 Build your own fan or replace a fan motor. Mount one of these motors directly to a fan column. Four 8-32 threaded mounting studs extend 1" for mounting a fan guard.
View information about motors.
Note: When selecting a fan blade, be sure the rpm and hp are compatible and the shaft diameter of the blade matches the shaft diameter of the motor.
For technical drawings and 3-D models, click on a part number.
Motor


Speed,


rpm

Power,


hp

Dia.

Lg.

Current,


A

Lg.

Ht.

Wd.

Direction
of
Operation
Service
Factor

Mount.


Fasteners
Included

Mount.


Hole


Dia.

Features
Specifications
Met
Each

120V

AC,

Single

Phase—

Hardwire

1,075

1/4

1/2

"
2

3/8

"
2.9
10

11/16

"
10

3/8

"
5

11/16

"
Clockwise or Counterclockwise
1.0
No

7/16

"
Thermal Overload Protection
UL Recognized Component, CSA Certified
0000000
0000000
1,075

1/3

1/2

"
2

3/8

"
3.8
10

11/16

"
10

3/8

"
5

11/16

"
Clockwise or Counterclockwise
1.0
No

7/16

"
Thermal Overload Protection
UL Recognized Component, CSA Certified
0000000
000000
1,075

1/2

1/2

"
2

3/8

"
5.5
11

5/16

"
10

3/8

"
5

11/16

"
Clockwise or Counterclockwise
1.0
No

7/16

"
Thermal Overload Protection
UL Recognized Component, CSA Certified
0000000
000000
1,625

1/4

1/2

"
2

3/8

"
2.6
10

11/16

"
10

3/8

"
5

11/16

"
Clockwise or Counterclockwise
1.0
No

7/16

"
Thermal Overload Protection
UL Recognized Component, CSA Certified
0000000
000000
1,625

1/3

1/2

"
2

3/8

"
3.4
10

11/16

"
10

3/8

"
5

11/16

"
Clockwise or Counterclockwise
1.0
No

7/16

"
Thermal Overload Protection
UL Recognized Component, CSA Certified
0000000
000000
1,625

1/2

1/2

"
2

3/8

"
5.1
10

11/16

"
10

3/8

"
5

11/16

"
Clockwise or Counterclockwise
1.0
No

7/16

"
Thermal Overload Protection
UL Recognized Component, CSA Certified
0000000
000000