About Electric Motors
When replacing a motor, use the information on your motor's nameplate to guide your selection.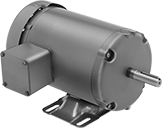 TEFC Enclosure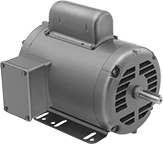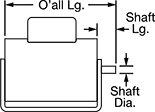 Replace old base-mount motors to keep your equipment moving. Motors are rated for continuous duty and mount at any angle. You can wire for clockwise or counterclockwise rotation; instructions are included.
To use a motor with a variable frequency drive (AC motor speed control), choose a three-phase motor that's inverter rated.
Motors with a welded base have a base that's welded to the enclosure. Motors with a vibration-damping base have rubber rings between the base and enclosure to minimize vibration.
Motors with overload protection turn off in overload conditions to prevent motor damage. Manual overload protection must be reset manually to start the motor after it cools. Automatic overload protection starts the motor automatically after it cools.
For technical drawings and 3-D models, click on a part number.
Power,


hp

Max.




Speed,


rpm
Full Load


Current,


A
Inverter
Rated
Motor
Enclosure
Type

Lg.

Wd.

Ht.

Dia.

Lg.

Center
to
Base
Overload
Protection
Type
Class

Max.




Temp.,




°F

Each

115/208-230

Volts

AC,

Single Phase

NEMA

56/NEMA

56H—

Welded Base

(Keyed Shaft)

3/4

1,140
7.8/8-3.9
No
Totally Enclosed Fan Cooled (TEFC)
13"
9

1/2

"
9

1/4

"

5/8

"
1

7/8

"
3

1/2

"
__
B
266°
0000000
000000000
1
1,725
11.8/6.3-5.9
No
Totally Enclosed Fan Cooled (TEFC)
13"
9

1/2

"
9

1/4

"

5/8

"
1

7/8

"
3

1/2

"
__
F
311°
0000000
000000
1
1,725
11.8/6.3-5.9
No
Totally Enclosed Fan Cooled (TEFC)
13"
10"
9

1/4

"

5/8

"
1

7/8

"
3

1/2

"
Automatic
F
311°
0000000
000000
1
3,450
11.8/6.1-5.9
No
Totally Enclosed Fan Cooled (TEFC)
13"
9

1/2

"
9

1/4

"

5/8

"
1

7/8

"
3

1/2

"
__
B
266°
0000000
000000
1

1/2

3,450
16/8.4-8
No
Totally Enclosed Fan Cooled (TEFC)
13"
9

1/2

"
9

1/4

"

5/8

"
1

7/8

"
3

1/2

"
__
B
266°
0000000
000000

NEMA

56/NEMA

56H—

Vibration-Damping

Base

(Keyed Shaft)

1
1,725
13.4/7.4-6.7
No
Open Dripproof (ODP)
11

1/2

"
6

3/4

"
9

1/4

"

5/8

"
1

7/8

"
3

1/2

"
Automatic
B
266°
0000000
000000

NEMA

56H—

Welded Base

(Keyed Shaft)

1

1/2

1,725
12.4/6.8-6.2
No
Totally Enclosed Fan Cooled (TEFC)
14"
9

1/2

"
9

1/4

"

5/8

"
1

7/8

"
3

1/2

"
__
B
266°
0000000
000000

115/230

Volts

AC,

Single Phase

NEMA

56/NEMA

56H—

Welded Base

(Keyed Shaft)

1
3,450
12/6
No
Totally Enclosed Fan Cooled (TEFC)
13"
10"
9

1/4

"

5/8

"
1

7/8

"
3

1/2

"
Manual
B
266°
00000000
000000
2
3,450
23/11.5
No
Totally Enclosed Fan Cooled (TEFC)
14"
10"
9

1/4

"

5/8

"
1

7/8

"
3

1/2

"
Manual
B
266°
00000000
000000
2
3,470
15.6/7.8
No
Open Dripproof (ODP)
14"
9"
9"

5/8

"
1

7/8

"
3

1/2

"
__
F
311°
00000000
000000

NEMA

56H—

Welded Base

(Keyed Shaft)

1

1/2

1,725
12.4/6.2
No
Open Dripproof (ODP)
14"
9

3/4

"
9"

5/8

"
1

7/8

"
3

1/2

"
__
F
311°
00000000
000000
1

1/2

3,480
11.8/5.9
No
Open Dripproof (ODP)
12

3/4

"
9"
9"

5/8

"
1

7/8

"
3

1/2

"
__
F
311°
00000000
000000

208-230/460

Volts

AC,

Three Phase

NEMA

56H—

Welded Base

(Keyed Shaft)

3/4

1,140
3.3-3/1.5
No
Totally Enclosed Fan Cooled (TEFC)
13"
8

1/2

"
6

3/4

"

5/8

"
1

7/8

"
3

1/2

"
__
B
266°
0000000
000000