About Electric Motors
When replacing a motor, use the information on your motor's nameplate to guide your selection.
Compact
Round-Face

DC Gearmotors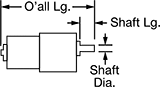 Power small machinery in spaces where other gearmotors won't fit. Gearmotors pair a motor with a speed reducer to lower speed while increasing torque.
To control motor speed, motor controls are also available. To convert AC power to DC power, see AC to DC transformers.
For technical drawings and 3-D models, click on a part number.
Speed @ Continuous
Operating Torque

Power,


hp
Full Load


Current,

A

Lg.

Wd.

Ht.

Dia.

Lg.

Center
to Base
Class

Max.




Temp.,

° F

Each
21 rpm @ 100 in.-oz.
0.0021
0.5
3

3/4

"
1

3/8

"
1

3/8

"
0.19"

3/4

"
0.95"
F
311°
0000000
0000000
65 rpm @ 46 in.-oz.
0.0032
0.6
3

3/4

"
1

3/8

"
1

3/8

"
0.19"

3/4

"
0.95"
F
311°
0000000
000000
202 rpm @ 16 in.-oz.
0.0036
0.6
3

3/4

"
1

3/8

"
1

3/8

"
0.19"

3/4

"
0.95"
F
311°
0000000
000000
625 rpm @ 6 in.-oz.
0.004
0.6
3

3/4

"
1

3/8

"
1

3/8

"
0.19"

3/4

"
0.95"
F
311°
0000000
000000