About Flowmeters and Totalizers
Flowmeters measure the rate of flow for a liquid or a gas. Totalizers measure the cumulative flow volume. Flowmeter/totalizers display both the flow rate and the cumulative flow volume.
High-Temperature

Totalizers for Water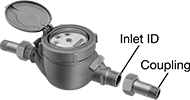 With Bronze Body
Withstand temperatures of at least 194° F. These totalizers measure the total flow volume of water in your system. They cannot be reset. All come with NPT male couplings.
Inlet
ID
Pipe
Connections

End-to-End




Lg.

Flow


Range,


gpm
Accuracy

Max.

Total


Volume,


gallons

Max.


Pressure

Temp.




Range,




°F

Seal
Material
Mounting
Orientation
Display
Type
Each

Bronze Body

Gallons

1"

3/4

NPT Male

7

1/2

"
0.22 to 22
±1.5%
99,999,900
150 psi @ 70° F
33° to 194°
Plastic
Horizontal
Analog
0000000
0000000
1

1/4

"
1 NPT Male

10

1/4

"
0.44 to 52
±1.5%
99,999,900
150 psi @ 70° F
33° to 194°
Plastic
Horizontal
Analog
0000000
000000
2"
1

1/2

NPT Male

11

3/4

"
0.88 to 88
±1.5%
99,999,900
150 psi @ 70° F
33° to 194°
Plastic
Horizontal
Analog
0000000
00000000
2

1/2

"
2 NPT Male

11

3/4

"
1.98 to 132
±1.5%
99,999,900
150 psi @ 70° F
33° to 194°
Plastic
Horizontal
Analog
0000000
00000000