Electric
Ultra-High-Vacuum

Pumps
Achieve vacuum levels up to 1 x 10 -12 torr with these ultra-high-vacuum pumps. Each unit includes two pumps—a diaphragm pump and a turbomolecular pump—that work together to create extremely high levels of vacuum in your chamber. The turbomolecular pump meets IP54 for protection in damp and dusty environments. Units are compact, so they fit on top of a workbench or table.
Pumps are ready to use as soon as they're plugged in and connected to a chamber. Since they don't use oil, they won't introduce contaminants into your system. They hardly vibrate, minimizing interference with sensitive instruments and measurement devices.
Pumps with claw-clamp intake connections require a ring and four double-claw clamps (all sold separately) to connect to other components. Claw-clamp connections are also known as ISO-K fittings. These pumps include a gauge with quick-clamp connections, which requires a quick clamp and a ring (both sold separately) to connect. Quick-clamp connections are also known as KF fittings.
Pumps with flanged intake connections and the included gauge each require a gasket (sold separately) to connect to your chamber. Flanged connections are also known as CF fittings.
High-Efficiency

Fixed-Flow

Air-Powered

Vacuum Pumps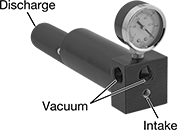 A multistage design generates a high vacuum flow with less air consumption than other air-powered vacuum pumps. Also known as venturi pumps, these pumps are commonly used in vacuum packaging, pick-and-place operations, and end-of-arm robotic tooling. They have no seals or moving parts that can wear down or overheat, and they don't require lubrication, so there's no downtime for maintenance. The compact body allows inline installation close to your vacuum point. Maximum flow rate is the rate at which air is pumped before a vacuum is created. Flow rate steadily decreases as the pump generates the vacuum. The larger the tank, the longer it will take to form a vacuum. Tube and fitting ID will also affect flow. A higher maximum vacuum value indicates a stronger vacuum.
Max.




Vacuum,




in.

of Hg

Max.


Flow


Rate,

cfm
Operating


Pressure,


psi

Temp.




Range,




°F

Air


Consumption,


cfm

Volume,


dB
Pipe
Size

Thread
Type
Gender
Pipe
Size

Thread
Type
Gender
Pipe
Size
Thread
Type
Gender

Dia.

Overall


Lg.

Each
26
17
68
35° to 125°
7
65

1/8

NPT

Female

3/8

NPT

Female

1/2

NPT

Female
3"
10

1/4

"
00000000
0000000
27
6.8
68
35° to 125°
2.7
65

1/8

NPT

Female

1/4

NPT

Female

1/2

NPT

Female
3"
8

1/4

"
00000000
000000
27
12
68
35° to 125°
4.9
65

1/8

NPT

Female

3/8

NPT

Female

1/2

NPT

Female
3"
8

3/4

"
00000000
000000