Polyurethane Pallet and Lift Truck Wheels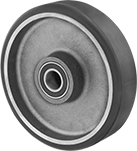 Replace worn or broken wheels on your equipment—these wheels are designed to fit specific models of pallet and lift trucks. They have a hard metal core for strength and a polyurethane tread that combines the abrasion resistance of plastic with the shock-absorbing qualities of rubber.
Wheels have ball bearings for smooth rolling.
Sealed bearings are completely sealed for the best protection against dust and debris.
Also Available: Other manufacturers' wheels not shown. Please ask for 2670T999 and specify the manufacturer's name, part number, and wheel size.
For
Manufacturer
Model Number

Dia.

Wd.

Hub


Lg.

Cap.

per


Wheel,

lbs.

Hardness
Nonmarking
Wheels

Temp.




Range,

°F

For Axle


Dia.

Each

With Ball Bearings

Crown (40079, 82283-1, 82284, 82285, 83879), Multiton (325P, 90304)
3

1/4

"
3

7/8

"
3

7/8

"
1,500
Durometer 90A
Yes
-10° to 130°

25/32

"
00000000
000000
Crown (41269, 41275, 41276, 41277), Multiton (800P, 90100, 90423)
8"
2"
2

5/16

"
2,000
Durometer 90A
Yes
-10° to 130°

25/32

"
00000000
00000
Replacement Parts for Pallet Trucks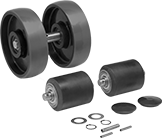 Wheel Kit
Reduce downtime with replacement part kits for pallet trucks.
Also Available: Other replacement parts. Please select 2641T999 and specify truck manufacturer, model number, and part required.