Respirator Filters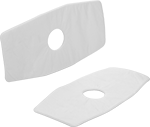 719009N99
Replace the filter on your respirator when breathing becomes difficult.
N99 filters filter out 99% of solid particles. They are not oil resistant.
Manufacturer
Model Number
Filter
Rating
For Use With

Pkg.




Qty.

Pkg.

Compatible with 7190N99

719009N99
N99
Solid Particles
2
0000000
000000
Disposable Respirators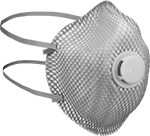 F
As you breathe through them, these respirators filter out contaminants in the air. Throw them out when soiled, damaged, or breathing is difficult.
N99 respirators filter out 99% of solid particles. They are not oil resistant.
Respirators with an exhale valve reduce breathing resistance and hot air buildup.
Respirators with a mesh shell hold their shape in heat and humidity.
Choose the correct size to create a good seal. Size M/L and one-size respirators fit most adults.
Respirators that cannot be sold outside of the U.S. and Canada are restricted due to product labeling requirements.
Style
Filter
Rating
For Use With
NIOSH Approval
Exhale
Valve
Size
Color
Features
Cannot Be
Sold To

Pkg.




Qty.

Pkg.

F
N99
Solid Particles
TC-84A-1459
Yes
One Size
Gray
Mesh Shell
Outside United States and Canada
10
0000000
000000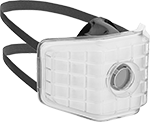 Designed to fit easily under welding helmets, this respirator has a large surface area, which minimizes breathing resistance. Replace the filter when breathing through these respirators becomes difficult. Separate intake and outflow channels keep exhaled air from saturating the filter, so air remains cool and dry.
Fitted with an N99 filter, this respirator filters out 99% of solid particles. It is not oil resistant.