Horizontal

Vertical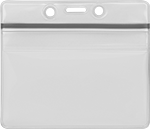 Horizontal with
Press-to-Close
Top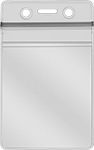 Vertical with
Press-to-Close
Top
Orientation
Material
Color
Features

Ht.

Wd.

Pkg.




Qty.

Pkg.

Sleeves

Horizontal
Plastic
Clear
Holes for Lanyard, Slot for Badge Loop
2

3/8

"
3

3/8

"
10
00000000
00000
Vertical
Plastic
Clear
Holes for Lanyard, Slot for Badge Loop
3

3/8

"
2

3/8

"
10
00000000
0000
Horizontal
Plastic
Clear
Holes for Lanyard, Slot for Badge Loop
2

5/8

"
3

7/8

"
5
00000000
0000
Vertical
Plastic
Clear
Holes for Lanyard, Slot for Badge Loop
3

7/8

"
2

5/8

"
5
00000000
0000
Name-Badge

Sleeves with Lanyard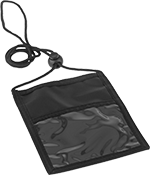 Horizontal Sleeve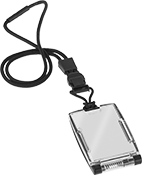 Vertical Sleeve with RFID Shielding
Vertical badges block RFID scanning to protect identification cards from digital theft.
Metal-Detectable

Name-Badge

Sleeves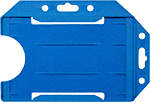 Shown Horizontal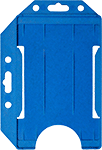 Shown Vertical
Clearly identify staff and visitors in sanitary areas with these name badge sleeves—they have a metal additive that will set off metal detectors if they fall into your food line. The bright blue color is easy to spot, so you can quickly find and remove them. These sleeves help you comply with Hazard Analysis and Critical Control Point (HACCP) programs. They are also FDA compliant, and are safe for direct contact with food.
Orientation

Ht.

Wd.

Material
Color
Features
Specifications
Met
Each
Horizontal, Vertical
3

1/4

"
2"
Plastic
Blue
Holes for Lanyard, Slot for Badge Loop
FDA Compliant 21 CFR 177.1520

0000000
00000
Name-Badge

Sleeves with Magnetic Clip

With a magnetic clip strong enough to hold onto blazers, these badges stay in place without snagging or wrinkling clothing.
Orientation

Ht.

Wd.

Material
Color

Pkg.




Qty.

Pkg.

Horizontal
3"
4"
Plastic
Clear
20
00000000
000000
Name-Badge

Sleeves with Armband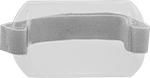 Horizontal

Vertical
With an elastic armband, these sleeves stay in place and won't get in the way.
Reflective armbands increase visibility in low-light conditions.
Pocket Protectors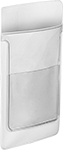 Pocket Protector
with Clear
Insert
Carry pens, pencils, and small tools in these protectors while shielding pockets from stains and damage.
Protectors with a clear insert keep credit cards, IDs, and other cards visible.