Gas Leak

Detectors for

Hard-to-Reach

Areas

Identify a variety of small leaks quickly and access hard-to-reach areas with the flexible probe. An audible signal increases in intensity the closer you get to the leak. Intrinsically safe for Class I, Divisions I and 2, Groups A, B, C, and D hazardous locations.
Detection Trigger

Point,

ppm

Methane


(Natural Gas)

Propane
Hydrogen
Butane
Acetone
Methanol
Ammonia
Gasoline
Chlorine
Acetylene
Ethane
Ethylene
Hydrogen
Sulfide
Batteries
Included
Container
Type
Each
5
5
5
5
50
50
20
1
1
50
5
500
5
Yes
Plastic Carrying Case
0000000
0000000
Economy Gas Leak Detectors
Check for leaks in pipes, valves, storage tanks, and other gas system components. Detector signals with both a red light and a continuous beeping sound.
Combustion Efficiency Meters
Also known as a combustion analyzer, this meter measures boiler and furnace combustion efficiency. It automatically calibrates to normal atmospheric oxygen.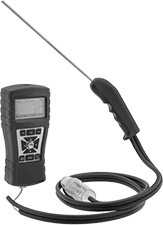 For
Use
On
Ambient


Temp.

Flue
Gas


Temp.

Flue
Gas
Oxygen
Carbon


Monoxide,


ppm
Combustion
Efficiency
Carbon
Dioxide
Air Free
Carbon


Monoxide,

ppm
Excess
Air
Accuracy
Batteries
Included
Each
Kerosene, Natural Gas, Oil, Propane
25° to 110° F
-4° to 1200° F
0-20.9%
0-2,000
0.1%-100%
0-15%
0-9,999
0-250%
±0.3% of Oxygen Content
Yes
0000000
0000000