Air-Powered

Face-Mount

Motors with NEMA Frame
A safe alternative to electric motors for use in harsh environments, air-powered motors are spark-free and remain cool, even under continuous load. They come with a muffler to reduce noise and filter exhaust air.
Motors with reversible shaft rotation can be set to turn clockwise or counterclockwise; instructions are included.
For technical drawings and 3-D models, click on a part number.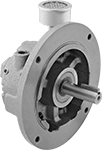 Clockwise

Counterclockwise
Power,


hp

Torque,




in.-lbs.

Max.


Speed @

Max.




Pressure,

rpm

Max.




Pressure,


psi

Max.

Air


Consumption,


cfm
Noise


Level,


dBA

Lg.

Wd.

Ht.

Dia.

Lg.

Center
to
Base

(A)

Type
Direction
of
Operation
Pipe
Size

Each

Face Mount

0.42
14
2,000
80
30
84
6

3/4

"
6

1/2

"
7

3/4

"

5/8

"
2.06"
3

1/4

"
Keyed
Clockwise

1/4

00000000
0000000
0.42
14
2,000
80
30
84
6

3/4

"
6

1/2

"
7

3/4

"

5/8

"
2.06"
3

1/4

"
Keyed
Counterclockwise

1/4

00000000
000000
0.95
20
3,000
100
30
76
5

3/4

"
6

1/2

"
7"

5/8

"
2.06"
3

1/4

"
Keyed
Counterclockwise

1/4

00000000
000000
1.7
36
3,000
100
78
87
6

3/4

"
6

1/2

"
7"

5/8

"
2.06"
3

1/4

"
Keyed
Clockwise or Counterclockwise

1/4

00000000
000000
4
84
3,000
100
128
90
8

1/4

"
6

1/2

"
8"

5/8

"
2.06"
3

1/4

"
Keyed
Clockwise or Counterclockwise

1/2

00000000
000000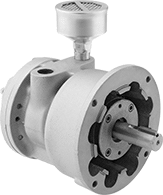 Clockwise

Counterclockwise
Power,


hp

Torque,




in.-lbs.

Max.


Speed @

Max.




Pressure,

rpm

Max.




Pressure,


psi

Max.

Air


Consumption,


cfm
Noise


Level,


dBA

Lg.

Wd.

Ht.

Dia.

Lg.

Center
to
Base

(A)

Type
Direction
of
Operation
Pipe
Size

Each

Face Mount

5
132
2,500
100
175
105
9

1/2

"
6

1/2

"
8

1/4

"

7/8

"
2

1/8

"
3

1/4

"
Keyed
Clockwise or Counterclockwise

1/2

00000000
0000000