High-Strength

625 Nickel Sheets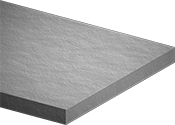 Yield

Strength:

60,

000 psi

Hardness:

Rockwell B95

(Medium)

Temper

Rating:

Softened

(Annealed)

Specifications

Met:

ASTM

B443,

SAE AMS5599
A blend of nickel, chromium, and molybdenum gives 625 nickel the strength, weldability, and corrosion resistance necessary for use in expansion joints, exhaust systems, and marine components. It is comparable to Inconel 625 and Haynes 625.
For technical drawings and 3-D models, click on a part number.

Certificates with a traceable lot number are available for these products. Download certificates from ORDER HISTORY after your order ships.
Thick.

Thick.

Tolerance

6"




× 6"

12"




× 12"

12"




× 24"

0.02"
-0.004" to 0.004"
000000
0.032"
-0.005" to 0.005"
000000
0.04"
-0.006" to 0.006"
000000
0.05"
-0.006" to 0.006"
000000
0.063"
-0.007" to 0.007"
000000
0.08"
-0.009" to 0.009"
000000
0.125"
-0.012" to 0.012"
000000
0.188"
-0.019" to 0.038"
000000
0.25"
-0.022" to 0.05"
000000
0.375"
-0.01" to 0.066"
00000000