Ultra-High-Temperature

Alloy X Nickel Rods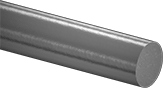 Yield

Strength:

45,

000 psi

Hardness:

Rockwell B85

(Medium)

Temper

Rating:

Softened

(Annealed)

Specifications

Met:

ASTM

B572,

SAE AMS5754
Even in temperatures up to 2000° F, Alloy X nickel offers good strength and weldability, along with excellent oxidation resistance. It's often used for components in gas turbine engines and furnaces. This material is equivalent to Inconel HX and Hastelloy X.
For technical drawings and 3-D models, click on a part number.

Certificates with a traceable lot number are available for these products. Download certificates from ORDER HISTORY after your order ships.
Dia.

Dia.

Tolerance
Straightness
Tolerance

3"

Lg.

6"

Lg.

12"

Lg.

36"

Lg.

1/4

"
-0.001" to 0.001"

1/16

" per 5 ft.
0000000

3/8

"
-0.002" to 0.002"

1/16

" per 5 ft.
0000000

1/2

"
-0.002" to 0.002"

1/16

" per 5 ft.
0000000

3/4

"
-0.002" to 0.002"

1/16

" per 5 ft.
0000000

7/8

"
-0.002" to 0.002"

1/16

" per 5 ft.
0000000
1"
-0.003" to 0.003"

1/16

" per 5 ft.
0000000
1

1/4

"
-0.003" to 0.003"

1/16

" per 5 ft.
0000000
1

1/2

"
-0.003" to 0.003"

1/16

" per 5 ft.
0000000
1

3/4

"
-0.003" to 0.003"

1/16

" per 5 ft.
0000000
2"
-0.003" to 0.003"

1/16

" per 5 ft.
0000000