About Carbon
Steel,

Alloy

Steel,

Spring

Steel,

and Cast Iron
Nickel-Coated

Low-Carbon

Steel Bars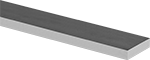 Yield

Strength:

45,

000 psi

Hardness:

Rockwell C45

(Hard)

Heat

Treatable:

No
Specifications

Met:

SAE

AMS2404,

MIL-C-26074
In addition to good corrosion resistance, the nickel coating provides better wear resistance than the zinc-galvanized coating. Also known as mild steel, low-carbon steel is easy to machine, form, and weld. It's widely fabricated into parts that don't require high strength, such as fixture clamps, mounting plates, and spacers.
For technical drawings and 3-D models, click on a part number.

Certificates with a traceable lot number are available for these products. Download certificates from ACTIVITY after your order ships.