How to

Identify and Measure Fittings
Pipe size is an industry designation, not the actual size. View information about how to measure threaded and unthreaded pipe and pipe fittings.
Fiberglass Pipe for Corrosive Chemicals
For Use

With:

Acetic Acid

(75%),

Alcohol,

Calcium

Chloride,

Chlorine,

Fuel

Oil,

Gasoline,

Hydrochloric Acid

(37%),

Nitric Acid

(10%),

Oil,

Phosphoric

Acid,

Salt Water

(30%),

Sodium Hydroxide

(50%),

Sulfuric Acid

(70%),

Water
Temperature

Range:

32° to 200° F

Specifications

Met:

ASTM

D2310,

ASTM D3567
With excellent corrosion resistance, this pipe can handle a wide range of acids and other highly-corrosive chemicals. Use in metal surface treating applications, plating solution lines, and other chemical process applications. Layers of fiberglass give this pipe better strength and durability than any of our other pipe for chemicals. Pipe meets ASTM D2310 and ASTM D3567 specifications and testing requirements for product dimensions, performance, and material quality.
To connect fittings to pipe, first sand the inside of the fitting and the end of the pipe to remove the surface finish. Next, mix the adhesive (sold separately) until the color is uniform with no streaks. Apply a thin layer of mixed adhesive to the sanded area of the pipe, approximately 1/8" thick. Repeat this process with the inside of the fitting, applying a layer approximately 1/16" thick. After sealant has been applied, push the fitting onto the pipe until it is fully engaged. Finally, use the adhesive-curing heat cable (sold separately) to cure the adhesive. Wrap the tape around the pipe and fitting at the joint, taking care to not overlap the tape. Once you have waited the full cure time, the pipe and fitting will be ready to use.
Warning: Never use plastic pipe fittings and pipe with compressed air or gas.
For technical drawings and 3-D models, click on a part number.

Pipe
Size

OD
ID
Wall


Thick.

Material
Color

Max.

Pressure
Each
Each
1

1/2

1

7/8

"
1.6"
0.14"
Fiberglass
Green
300 psi @ 72° F
0000000
0000000
0000000
0000000
2

2

3/8

"
2.06"
0.16"
Fiberglass
Green
250 psi @ 72° F
0000000
000000
0000000
000000
3

3

1/2

"
3.07"
0.22"
Fiberglass
Green
250 psi @ 72° F
0000000
000000
0000000
000000
4

4

1/2

"
4.03"
0.24"
Fiberglass
Green
150 psi @ 72° F
0000000
000000
0000000
000000
| | | | |
| --- | --- | --- | --- |
| Pipe Cement (11.8-fl. oz. Can) | 0000000 | Each | 000000 |
Adhesive-Curing Heat Cable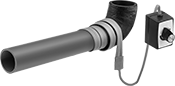 Voltage
Current

Max.

Heat


Output,

°F

Lg.

Wd.

Thick.

Plug Type
Cord


Lg.

Each
120V AC
15 A
270°
6 ft.
1"

1/8

"
Two Prong
6 ft.
0000000
0000000