Lace Number

Lace Number
Show
Lace Number

Lace Number
Hide
For Maximum Belt Thickness

For Maximum Belt Thickness
DFARS (Defense Acquisition Regulations Supplement)

DFARS

(Defense

Acquisition

Regulations

Supplement)
Number of Belt Joints Per Set

Number of Belt Joints Per Set
RoHS (Restriction of Hazardous Substances)

RoHS

(Restriction

of
Hazardous

Substances)
For Minimum Belt Thickness

For Minimum Belt Thickness
Alligator Lacing Sets for Flat Belts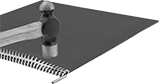 Often used to join conveyor belt seams, use this lacing for a tight hold with uniform tension across the width of your belt. Once installed, joints are flush with the belt surface on both sides, so teeth run smoothly over idlers and don't catch on conveyed materials. Use the included removable hinge pins to connect the lacing between two belt ends.
Stainless steel lacing has better corrosion resistance than steel and is nonmagnetic.
For technical drawings and 3-D models, click on a part number.
For Belt


Thick.

For

Max.


Belt

Wd.

Lg.

Lace
Number
Number of Belt
Joints Per Set
Set

Stainless Steel

1/16

"-

3/32

"
12"
6"
1AS
6
0000000
000000