Nonsparking Ball Peen Hammers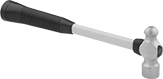 The face and head are made of aluminum-bronze that is Factory Mutual approved, so these tools inhibit sparking, resist corrosion, and are nonmagnetic. They satisfy OSHA requirements that specify nonsparking tools for locations where flammable vapors and combustible residues are present. Use the domed end of the head for forming soft metal, rounding off edges, and closing rivets. The flat striking face is for driving nails, pins, punches, and chisels. All have a textured grip for slip resistance. For replacement handles, see Fiberglass Hammer Handles.
Warning: Do not use these tools in direct contact with acetylene.
Head


Wt.,

oz.

Face


Dia.

Overall


Lg.

Face Material
Handle
Replaceable
Specifications
Met
Each

Fiberglass Handle with Textured Grip

4

3/4

"
9

3/4

"
Aluminum-Bronze
Replaceable
FM Approved

0000000
000000
12
1"
14"
Aluminum-Bronze
Replaceable
FM Approved

0000000
00000
16
1

1/4

"
14"
Aluminum-Bronze
Replaceable
FM Approved

0000000
00000
24
1

1/4

"
14"
Aluminum-Bronze
Replaceable
FM Approved

0000000
00000
32
1

1/2

"
14"
Aluminum-Bronze
Replaceable
FM Approved

0000000
00000
36
1

5/8

"
14"
Aluminum-Bronze
Replaceable
FM Approved

0000000
000000
44
1

3/4

"
14"
Aluminum-Bronze
Replaceable
FM Approved

0000000
000000