Nonsparking Sledge Hammers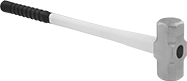 The faces and head are made of aluminum-bronze that is Factory Mutual approved, so these tools inhibit sparking and are nonmagnetic and corrosion resistant. They satisfy OSHA requirements that specify nonsparking tools for locations where flammable vapors and combustible residues are present. Use them to demolish material, form metal, and drive punches, chisels, and masonry drills. For demolition work, ensure that the workpiece is softer than the metal faces. Longer and heavier hammers deliver greater impact. All have a textured or ribbed grip for slip resistance. For replacement handles, see Fiberglass Hammer Handles.
33" long hammers can be swung with both hands to deliver a more powerful strike than shorter hammers.
Warning: Do not use these tools in direct contact with acetylene.
Head


Wt.,

lbs.

Face


Dia.

Overall


Lg.

Handle
Material
Grip
Style
Handle
Replaceable
Specifications
Met
Each
6
2"
33"
Fiberglass
Ribbed
Replaceable
FM Approved

0000000
0000000
8
2

1/8

"
33"
Fiberglass
Ribbed
Replaceable
FM Approved

0000000
000000
10
2

1/4

"
33"
Fiberglass
Ribbed
Replaceable
FM Approved

0000000
000000
16
2

5/8

"
33"
Fiberglass
Ribbed
Replaceable
FM Approved

0000000
000000