Nonsparking Maintenance Tool Sets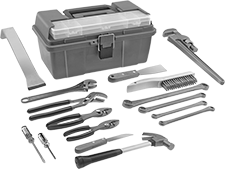 Made of materials that are Factory Mutual approved, these tools inhibit sparking and are nonmagnetic and corrosion resistant. They satisfy OSHA requirements that specify nonsparking tools for locations where flammable vapors and combustible residues are present.
Warning: Do not use these tools in direct contact with acetylene.
No.


of
Pieces
Includes
Container
Type
Each
6

9/32

" Slotted Beryllium Copper Screwdriver
No. 2 Phillips Beryllium Copper Screwdriver
Aluminum-Bronze Adjustable Wrench
Aluminum-Bronze Crate Opener/Hammer
Aluminum-Bronze Slip-Joint Pliers
Aluminum-Bronze Tongue-and-Groove Pliers
Canvas Roll-Up Pouch
000000
0000000
16

5/16

" Slotted Beryllium Copper Screwdriver
No. 2 Phillips Beryllium Copper Screwdriver
Four Two-Head 12-Point Aluminum-Bronze Box Wrenches (

5/16

",

3/8

",

7/16

",

1/2

",

9/16

",

5/8

",

3/4

" and

7/8

")
Aluminum-Bronze Adjustable Wrench
Aluminum-Bronze Pipe Wrench
Nickel-Copper Putty Knife
Nickel-Copper Paring Knife
Aluminum-Bronze Claw Hammer
Aluminum-Bronze Tongue-and-Groove Pliers
Two Aluminum-Bronze Slip-Joint Pliers
Aluminum-Bronze Scraper
Phosphor Bronze Wire Brush with Wooden Handle
Plastic Case
000000
000000