North American Style Battery Charging Cable Connectors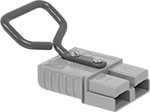 Connector With Optional Handle
Designed for use with industrial battery cable, these connectors quickly make and break connections between a battery and a charging device or a battery and your equipment. Two connectors are required to make a connection; any two connectors of the same size and color will fit together. The amps listed are based on the largest wire size shown.
Caps (sold separately) protect the connector end when not in use.
For technical drawings and 3-D models, click on a part number.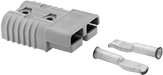 Connector
For
Wire
Gauge

Lg.

Wd.

Ht.

Polarity
Terminal
Material
Number
of
Contacts
Contact
Material
Specifications
Met
Choose
a
Color
Each
Pair
12-10
1.9"
1.4"
0.6"
Negative, Positive
Polycarbonate Plastic
2
Copper
UL Recognized Component
000000
000000
0000000
00000
6
1.9"
1.4"
0.6"
Negative, Positive
Polycarbonate Plastic
2
Copper
UL Recognized Component
000000
00000
0000000
0000
6
2

1/2

"
1.9"
0.8"
Negative, Positive
Polycarbonate Plastic
2
Copper
UL Recognized Component
Gray
00000000
00000
00000000
00000
4
2

1/2

"
1.9"
0.8"
Negative, Positive
Polycarbonate Plastic
2
Copper
UL Recognized Component
Gray
00000000
00000
00000000
00000
2
2

1/2

"
1.9"
0.8"
Negative, Positive
Polycarbonate Plastic
2
Copper
UL Recognized Component
Gray
00000000
00000
00000000
00000
6
3.1"
2.2"
1"
Negative, Positive
Polycarbonate Plastic
2
Copper
UL Recognized Component
000000
00000
00000000
00000
4
3.1"
2.2"
1"
Negative, Positive
Polycarbonate Plastic
2
Copper
UL Recognized Component
000000
00000
00000000
00000
2
3.1"
2.2"
1"
Negative, Positive
Polycarbonate Plastic
2
Copper
UL Recognized Component
000000
00000
00000000
00000
1/0
3.1"
2.2"
1"
Negative, Positive
Polycarbonate Plastic
2
Copper
UL Recognized Component
000000
00000
0000000
00000
1/0
4.3"
2.8"
1.3"
Negative, Positive
Polycarbonate Plastic
2
Copper
UL Recognized Component
000000
00000
00000000
00000
2/0
4.3"
2.8"
1.3"
Negative, Positive
Polycarbonate Plastic
2
Copper
UL Recognized Component
000000
00000
0000000
00000
3/0
4.3"
2.8"
1.3"
Negative, Positive
Polycarbonate Plastic
2
Copper
UL Recognized Component
000000
00000
0000000
00000
4/0
4.3"
2.8"
1.3"
Negative, Positive
Polycarbonate Plastic
2
Copper
UL Recognized Component
0000000
00000
0000000
00000