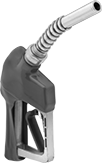 A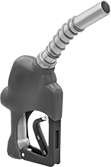 B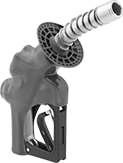 C
D
Control the flow while dispensing diesel fuel. Nozzles are aluminum, which is lightweight with good corrosion resistance.
Nozzles with automatic shut-off will stop dispensing when the tank is full or if the nozzle falls from the tank. They have a built-in check valve that reduces spillage when withdrawing the nozzle from tank. Nozzles have an angled design, which reduces hose kinking for efficient fueling. They come with a plastic scuff guard to protect the nozzle from damage.
Nozzles with manual shut-off have a trigger to stop the flow. Do not leave the nozzle unattended when in use.
Nozzles with three-position hold-open clip allow you to dispense fuel without holding the trigger.
Style A is also known as a service-station-style nozzle. The nozzle tip has a stream straightener (also known as a stream shaper), which reduces turbulence for less spillage. Attach an optional splash guard (sold separately) to protect your hands from spray.
Styles B and C are also known as truck-stop nozzles. They have higher flow rates than Style A to dispense large quantities of fuel quickly. Style C includes a splash guard to protect your hands from spray.
Style D has the largest spout and the highest flow rate of all the nozzles for use with trucks, buses, and other heavy-duty bulk fueling applications.
Use hold-open clip kits to replace a broken clip. Install with pliers.
For technical drawings and 3-D models, click on a part number.
Replacement


Hold-Open


Clip Kits

Style

Max.

Flow


Rate,


gpm
Pipe
Size

Connection

Max.


Pressure
Temperature


Range,




°F

OD

Lg.

Material
Color

Shut-Off


Type
Specifications
Met
Each
Each
Each

Nozzles

A
10

3/4

Threaded NPT Female
50 psi @ 72° F
-20° to 125°

15/16

"
6

1/2

"
Aluminum
Green
Automatic, Manual
UL Listed

0000000
0000000
000000
00
000000
00
A
10

3/4

Threaded NPT Female
50 psi @ 72° F
-20° to 125°

15/16

"
6

1/2

"
Aluminum
Red
Automatic, Manual
UL Listed

0000000
000000
0000000
000000
000000
00
B
25
1

Threaded NPT Female
50 psi @ 72° F
-20° to 125°
1

1/8

"
6

13/16

"
Aluminum
Green
Automatic, Manual
UL Listed

0000000
000000
0000000
000000
000000
00

Nozzles with

Three-Position

Hold-Open

Clip

A
10

3/4

Threaded NPT Female
50 psi @ 72° F
-20° to 125°

15/16

"
6

1/2

"
Aluminum
Green
Automatic, Manual
__
0000000
000000
000000
00
0000000
000000
C
75
1

Threaded NPT Female
50 psi @ 72° F
-20° to 125°
1

3/8

"
7"
Aluminum
Green
Automatic, Manual
UL Listed

0000000
000000
0000000
000000
0000000
00000
D
100
1

1/2

Threaded NPT Female
50 psi @ 72° F
-20° to 125°
1

1/2

"
7

7/8

"
Aluminum
__
Manual
__
00000000
000000
000000
00
000000
00