Victor Oxyacetylene Torch Components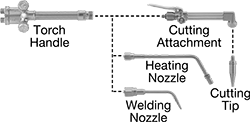 Create a torch or replace parts with our selection of handles, nozzles, cutting attachments, and cutting tips.
Heating nozzles are also known as rosebud heads. They create a cluster of flames for heat treating large areas and straightening bent materials.
Cutting torch handle with regulators includes a single-stage oxygen (CGA540) regulator that operates at 5 to 125 psi and an acetylene (CGA510) regulator that operates at 2 to 15 psi.