For Use With

For Use With
Show
For Use With

For Use With
Hide
Warning: Products have one, but not necessarily all, of the selected characteristics.
For Manufacturer Series

For Manufacturer Series
Welding Process

Welding Process
DFARS (Defense Acquisition Regulations Supplement)

DFARS

(Defense

Acquisition

Regulations

Supplement)
Victor Oxyacetylene Torch Components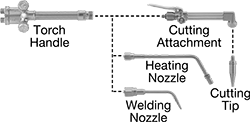 Create a torch or replace parts with our selection of handles, nozzles, cutting attachments, and cutting tips.
Heating nozzles are also known as rosebud heads. They create a cluster of flames for heat treating large areas and straightening bent materials.

For Manufacturer
Series
For Torch Handle
Model Number
Nozzle
Size
Manufacturer
Model Number

Lg.

Each

For Use With

Oxygen/Acetylene,

Oxygen/Hydrogen

400, Professional
WH411C, WH315FC+
4
MFA
12"
000000000
0000000
400, Professional
WH411C, WH315FC+
6
MFA
12"
000000000
000000
400, Professional
WH411C, WH315FC+
8
MFA
12"
000000000
000000
Professional
100FC
4
MFA-1
12"
000000000
000000
Professional
100FC
6
MFA-1
12"
000000000
000000
Professional
100FC
8
MFA-1
12"
000000000
000000