Mist Coolant Dispensers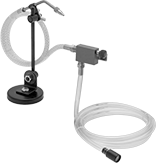 A (Shown
with Optional Magnetic
Base)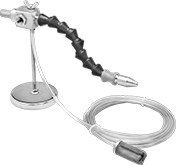 B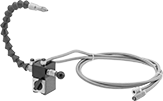 C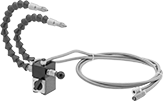 D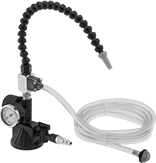 E
Designed to cool short and intermittent machine cycles, misting dispensers dissipate heat more efficiently than droplet dispensers, while using considerably less fluid than flood dispensers.
Style A can be used with a magnetic nozzle mount (sold separately).
Styles B-E come with a magnetic base. They have any-which-way nozzles that stay in place once positioned.
Style E has separate air and liquid controls and a built-in regulator for accurate mixing.
Style
Flow
Rate @
Pressure
Flow


On/Off


Mechanism

Max.




Pressure,


psi

No.


of
Hose


Lg.

Lg.

Type
Nozzle
Material
Bend
Radius
Air Inlet


Pressure,


psi
Coolant
Inlet
Hose

Lg.

For

Max.

SSU
Viscosity
Grade
Includes
Each

For Use With

Coolant,

Water

A
6 gph @ 125 psi
__
125
1
2 ft.
4"
Rigid
Brass
__
30-120
4 ft.
Not Rated
__
0000000
000000
B
0.3 gph @ 100 psi
__
100
1
__
7"
Flexible
Acetal Plastic
1

1/4

"
50-100
7 ft.
35
__
0000000
000000

For Use With

Coolant,

Water,

Air,

Cutting Oil

C
1.2 gph @ 30 psi
Switch
60
1
__
7

1/4

"
Flexible
Acetal Plastic
1

1/2

"
20-140
3

1/4

ft.
1,110
__
00000000
000000
D
2.4 gph @ 30 psi
Switch
60
2
__
7

1/4

"
Flexible
Acetal Plastic
1

1/2

"
20-140
3

1/4

ft.
1,110
__
00000000
000000

For Use With

Coolant,

Water,

Cutting Oil

E
105 gph @ 30 psi
__
30
1
__
13"
Flexible
Polypropylene Plastic
1"
10-50
10 ft.
Not Rated
Quick-Disconnect Fitting for Air Inlet
00000000
000000