Steam Cleaners
Clean and sanitize surfaces with the power of steam—with or without detergents and other chemicals. Fill the water tank with tap water, then turn the boiler switch on to send the water to the boiler tank. In approximately 5 minutes, these steam cleaners will deliver dry vapor steam at pressures up to 90 psi to power away dirt, grease, and grime, and temperatures up to of 290° F to kill bacteria, fungus, viruses, mold, mildew, and other microbes within seconds. Turn a dial to adjust the steam pressure. For extra cleaning power, add detergents or chemicals to the two chemical tanks. Press the chemical injection switch on the spray nozzle, and the detergents or chemicals will be pulled into the steam. These steam cleaners are CE Marked, which means they meet European safety standards.
These steam cleaners have a stainless steel housing, so they won't corrode from frequent contact with water, steam, detergents, and chemicals. Indicator lights and an alarm let you know when the water is ready to use or the tank is empty. These steam cleaners will automatically shut off if you don't refill the water tank in time.
These steam cleaners include a variety of attachments. Brushes help scrub away stubborn dirt and grime while steam cleaning. Nylon brushes are softer and less aggressive than copper and stainless steel brushes, so they're less likely to scratch sensitive surfaces. Copper brushes are stiffer and more aggressive than nylon brushes, so they're a good choice for extra-stubborn dirt and grime. Stainless steel brushes are the stiffest and most aggressive brushes. Use them for extremely stubborn or caked-on dirt and grime. Extension wands give you the extra length you need to clean floors and other hard-to-reach areas. Attach a brush to the end of the wand for extra scrubbing power. Useful for cleaning out cracks and crevices, the curved crevice tool directs a fine stream of steam exactly where you need it. You can also attach a brush to the end of this tool for extra scrubbing power. Use the squeegee to clean windows and wipe off residual moisture, preventing streaks.
The sanitizing fogger attachment creates a fog to quickly sanitize and disinfect large surface areas. Fill the container with disinfectant before attaching it to the steam cleaner.
Cleaners are low foaming and won't damage these steam cleaners. Use them on hard, nonporous surfaces. Multipurpose cleaners cut through dirt or grease and oil. They rinse clean without leaving a residue. Multipurpose and disinfectant cleaners remove dirt and kill up to 99.9% of bacteria and viruses. Their no-rinse formula reduces cleaning time. NSF and EPA registered, they're safe for disinfecting surfaces that will come in contact with food.
Multipurpose cleaners that cannot be sold outside of the United States are restricted due to product registration requirements.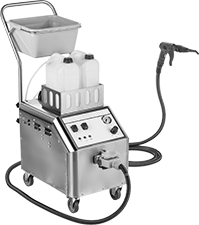 Min.

Max.

Max.Temp.,




°F

Tank


Cap.,




gal.

Approximate


Heat-Up




Time,

min.

Wd.

Ht.

Dp.

ID

Lg.,




ft.

Current,


A
Voltage
Cord


Lg.,




ft.

Features
Includes
Each

Stainless Steel Housing and Tank with Rubber Hose

Four Swivel Casters

(Two with Brakes)

0
90
290
1.3
5
13"
37"
21"
4
8
13
115V AC
13
Automatic Shut-Off
Chemical Injection Switch
Indicator Lights
Pressure Gauge
2-3/8" Round Nylon Brush
Curved Crevice Tool
Floor Brush
Soap Bottle (1 Gallon)
Spray Nozzle
Squeegee
Three 1" Round Nylon Brushes
Three Copper Brushes
Three Stainless Steel Brushes
Triangular Brush
Two Chemical Tanks
Two Extension Wands (19" Long)
0000000
000000000
Optional Multipurpose Cleaners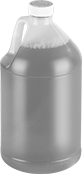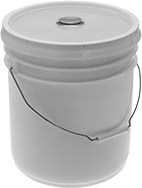 Pail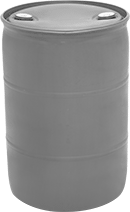 Cleaner
Type
Type

Size,




gal.

Composition
Harshness
For
Use
On
For
Removing
Features
Specifications
Met
Cannot
Be
Sold To
Each

Each

Liquid

Multipurpose
Jug
1
Water Based
Moderate
Aluminum, Asphalt, Brass, Carpet, Ceramic, Chrome, Concrete, Copper, Fabric, Fiberglass, Galvanized Steel, Glass, Iron, Linoleum, Painted Surfaces, Plastic, Porcelain, Rubber, Stainless Steel, Steel, Stone, Waxed Floors
Dirt, Grease/Oil
Low Foaming
__
__
0000000
000000
Multipurpose, Disinfectant
Jug
5
Water Based
Mild
Aluminum, Asphalt, Brass, Ceramic, Chrome, Concrete, Copper, Fiberglass, Galvanized Steel, Glass, Iron, Linoleum, Painted Surfaces, Plastic, Porcelain, Rubber, Stainless Steel, Steel, Stone, Waxed Floors
Dirt, Bacteria, Viruses
Low Foaming, No-Rinse Formula
NSF Registered D2

Outside United States
0000000
000000

Liquid Concentrate

Multipurpose
Pail
5
Water Based
Moderate
Aluminum, Asphalt, Chrome, Concrete, Galvanized Steel, Painted Surfaces, Plastic, Stainless Steel, Steel
Dirt
Low Foaming
__
__
0000000
00000
Multipurpose
Drum
55
Water Based
Moderate
Aluminum, Asphalt, Chrome, Concrete, Galvanized Steel, Painted Surfaces, Plastic, Stainless Steel, Steel
Dirt
Low Foaming
__
__
0000000
000000

Pkg.

Package

Liquid

Multipurpose
Jug
1
Water Based
Moderate
Aluminum, Asphalt, Brass, Carpet, Ceramic, Chrome, Concrete, Copper, Fabric, Fiberglass, Galvanized Steel, Glass, Iron, Linoleum, Painted Surfaces, Plastic, Porcelain, Rubber, Stainless Steel, Steel, Stone, Waxed Floors
Dirt, Grease/Oil
Low Foaming
__
__
0000000
000000