TIG Welding Type

TIG Welding Type
Industry Number

Industry Number
Show
Industry Number

Industry Number
Hide
Welding Process

Welding Process
For Gas Coverage

For Gas Coverage
DFARS (Defense Acquisition Regulations Supplement)

DFARS

(Defense

Acquisition

Regulations

Supplement)
RoHS (Restriction of Hazardous Substances)

RoHS

(Restriction

of
Hazardous

Substances)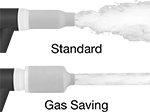 Ceramic for Narrow Gas Coverage
Direct the flow of shielding gas to your weld with these nozzles. When choosing a nozzle size, consider the thickness of the material you're welding. In general, the thicker the material, the higher the nozzle size you should use. All nozzles require a compatible collet in order to connect to your TIG torch.
Ceramic—These nozzles are more durable than borosilicate glass nozzles, but can limit visibility since they aren't transparent. Use them for general purpose welding applications. Gas-saving nozzles use less gas than standard nozzles but won't compromise the quality of your weld. These nozzles require a gas diffuser, which prevents oxidation and pitting in the weld by reducing gas turbulence and improving shielding.
Gas Coverage—Narrow nozzles are good for welding most metals.
For Torch
Series Number
Nozzle
Size
Industry
Number
Each

Ceramic for Narrow Gas Coverage

Gas Saving

17, 18, 26
No. 6
54N16
000000000
00000