About
Nuts,

Materials,

and Finishes
Metric
Nylon-Insert

Cap Locknuts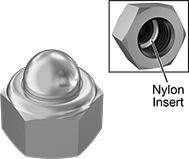 A nylon insert on these metric nuts prevents vibration from loosening them, and a domed head protects the threads at the end of the bolt from damage and debris. These nuts are reusable, but the nylon insert's holding power decreases with each use. Also known as acorn nuts, they create a finished appearance and can reduce snagging on wires and insulation. Nuts meet DIN 986, an international standard for domed cap nut dimensions.
These nuts are made of strong and wear-resistant Class 6 steel. A zinc plating extends the life of the nut by protecting the inner steel from rust.
For technical drawings and 3-D models, click on a part number.
Size

Pitch,


mm

Dp.,


mm

Wd.,


mm

Ht.,


mm
Insert

Max.




Temp.,

°F

Specifications
Met

Pkg.




Qty.

Pkg.

Zinc-Plated

Steel—

Class 6

M4

0.7
2.3
7
9.6
245°
DIN 986
50
000000000
000000
M5

0.8
3.5
8
10.5
245°
DIN 986
25
000000000
0000
M6

1
3.9
10
12
245°
DIN 986
25
000000000
0000
M8

1.25
5.2
13
14
245°
DIN 986
25
000000000
00000
M10

1.5
6.4
16
18
245°
DIN 986
10
000000000
0000
M12

1.75
8.3
18
23
245°
DIN 986
5
000000000
0000
M16

2
11.3
24
28
245°
DIN 986
1
000000000
0000
M20

2.5
13.5
30
35
245°
DIN 986
1
000000000
0000