About Shaft Collars
Shaft collars are useful for holding and positioning components on a shaft. They can also serve as mechanical stops and stroke limiters.
Bearing Retaining Locknuts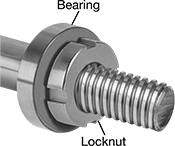 Carbon Steel

Stainless Steel
With a nylon insert that grips your threaded shaft or spindle without damaging the threads, these locknuts—sometimes called shaft nuts—keep bearings, bushings, gears, and pulleys in place. They won't shake loose from vibration. However, their nylon insert also means you shouldn't use these locknuts in applications with high temperatures. Their sides are slotted, so you can tighten and loosen them with a spanner wrench or spanner socket. To reduce the total size and weight of your assembly, they have chamfered edges.
All meet international standards for bearing locknut dimensions.
Carbon steel locknuts are strong and wear resistant. 303 stainless steel locknuts are nearly as strong as carbon steel but won't rust in outdoor, washdown, and other corrosive environments.
When choosing your thread spacing, consider the precision of your application. The finer the threads, the more control you have when making adjustments.
For technical drawings and 3-D models, click on a part number.