Nylon Mesh Cushioned Flap Sanding Discs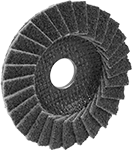 Angled
The abrasive-embedded mesh construction gives you more control over sanding pressure. Overlapping abrasive flaps bonded to a backing plate provide consistent material removal and even finishes. As the top layer of abrasive wears away, a new layer is exposed. Attach these discs to your tool's arbor.
Coarse grade is for light deburring, and removal of heavy rust and surface imperfections.
Medium grade is for moderate blending, cleaning, light deburring, and general finishing.
Fine grade is for light cleaning and finishing.
For technical drawings and 3-D models, click on a part number.
Dia.

Arbor
Hole


Dia.

Arbor Hole
Thread
Size

Industry
Designation

Max.




Speed,


rpm
Color
Abrasive
Material
Backing
Plate
Material
For
Use
On
For
Use
With
Each

Angled Flap Discs with Unthreaded Arbor Hole

4

1/2

"

7/8

"
__
Type 29
13,300
Brown, Red
Aluminum Oxide
Fiberglass
Steel, Wood
Angle Grinders
0000000
000000
5"

7/8

"
__
Type 29
12,200
Brown, Red
Aluminum Oxide
Fiberglass
Steel, Wood
Angle Grinders
0000000
00000
4

1/2

"

7/8

"
__
Type 29
13,300
Maroon
Aluminum Oxide
Fiberglass
Steel, Wood
Angle Grinders
0000000
00000
5"

7/8

"
__
Type 29
12,200
Maroon
Aluminum Oxide
Fiberglass
Steel, Wood
Angle Grinders
0000000
00000

Fine—

For Extra Smooth Finish

4

1/2

"

7/8

"
__
Type 29
13,300
Blue
Aluminum Oxide
Fiberglass
Steel, Wood
Angle Grinders
0000000
00000
5"

7/8

"
__
Type 29
12,200
Blue
Aluminum Oxide
Fiberglass
Steel, Wood
Angle Grinders
0000000
00000

Angled Flap Discs with Threaded Arbor Hole

4

1/2

"
__

5/8

"-11

Type 29
13,300
Brown, Red
Aluminum Oxide
Fiberglass
Steel, Wood
Angle Grinders
0000000
00000
5"
__

5/8

"-11

Type 29
12,200
Brown, Red
Aluminum Oxide
Fiberglass
Steel, Wood
Angle Grinders
0000000
00000
4

1/2

"
__

5/8

"-11

Type 29
13,300
Maroon
Aluminum Oxide
Fiberglass
Steel, Wood
Angle Grinders
0000000
00000
5"
__

5/8

"-11

Type 29
12,200
Maroon
Aluminum Oxide
Fiberglass
Steel, Wood
Angle Grinders
0000000
00000

Fine—

For Extra Smooth Finish

4

1/2

"
__

5/8

"-11

Type 29
13,300
Blue
Aluminum Oxide
Fiberglass
Steel, Wood
Angle Grinders
0000000
00000
5"
__

5/8

"-11

Type 29
12,200
Blue
Aluminum Oxide
Fiberglass
Steel, Wood
Angle Grinders
0000000
00000