Shaft-Mounted

Rotary Seals
Also known as V-rings and flingers, these seals protect shaft bearings by blocking dust and other contaminants while retaining lubricant. They're Buna-N for excellent resistance to oil and grease. To install, stretch the seal over your shaft and press it firmly against the face plate. The Seal ID, OD, and Width listed are the dimensions of the seal after it is installed.
Note: Maximum performance values cannot be achieved simultaneously; for example, speed is affected by pressure, temperature, and other operating conditions.
For technical drawings and 3-D models, click on a part number.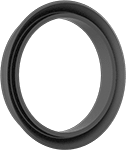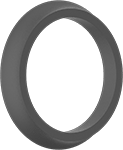 Profile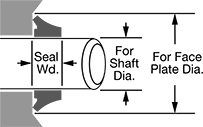 Dia.

Dia.


Range
For Face
Plate


Dia.

ID
OD

Wd.

Max.




Speed,


rpm

Max.




Pressure,


psi

Temp.




Range,




°F

Hardness
Color
Each

1/4

"
0.210"-0.260"
0.500"-0.550"
0.193"
0.547"
0.190"
29,000
100
-20° to 225°
Durometer 85A (Hard)
Black
0000000
00000

3/8

"
0.370"-0.450"
0.890"-0.970"
0.340"
0.891"
0.250"
17,400
100
-20° to 225°
Durometer 85A (Hard)
Black
0000000
0000

1/2

"
0.450"-0.530"
0.970"-1.050"
0.414"
1.016"
0.250"
14,500
100
-20° to 225°
Durometer 85A (Hard)
Black
0000000
0000

5/8

"
0.610"-0.690"
1.210"-1.290"
0.561"
1.234"
0.375"
10,900
100
-20° to 225°
Durometer 85A (Hard)
Black
0000000
0000

3/4

"
0.690"-0.770"
1.290"-1.370"
0.635"
1.359"
0.375"
9,600
100
-20° to 225°
Durometer 85A (Hard)
Black
0000000
0000
1"
0.950"-1.070"
1.550"-1.670"
0.874"
1.609"
0.375"
6,900
100
-20° to 225°
Durometer 85A (Hard)
Black
0000000
0000
1

1/8

"
1.070"-1.140"
1.670"-1.740"
0.984"
1.725"
0.375"
6,200
100
-20° to 225°
Durometer 85A (Hard)
Black
0000000
0000
1

1/4

"
1.220"-1.300"
1.820"-1.900"
1.122"
1.859"
0.375"
5,400
100
-20° to 225°
Durometer 85A (Hard)
Black
0000000
0000
1

3/8

"
1.300"-1.420"
1.900"-2.020"
1.196"
1.975"
0.375"
4,900
100
-20° to 225°
Durometer 85A (Hard)
Black
0000000
0000
1

1/2

"
1.500"-1.700"
2.100"-2.300"
1.380"
2.109"
0.375"
4,300
100
-20° to 225°
Durometer 85A (Hard)
Black
0000000
0000
1

3/4

"
1.700"-1.890"
2.300"-2.490"
1.564"
2.359"
0.375"
3,800
100
-20° to 225°
Durometer 85A (Hard)
Black
0000000
0000
2"
1.890"-2.090"
2.490"-2.690"
1.739"
2.609"
0.375"
3,400
100
-20° to 225°
Durometer 85A (Hard)
Black
0000000
0000
2

1/4

"
2.090"-2.290"
2.690"-2.890"
1.923"
2.859"
0.375"
3,100
100
-20° to 225°
Durometer 85A (Hard)
Black
0000000
0000
2

3/8

"
2.290"-2.480"
2.890"-3.080"
2.107"
2.975"
0.500"
2,900
100
-20° to 225°
Durometer 85A (Hard)
Black
0000000
0000
2

1/2

"
2.480"-2.680"
3.080"-3.280"
2.282"
3.109"
0.500"
2,600
100
-20° to 225°
Durometer 85A (Hard)
Black
0000000
0000
2

3/4

"
2.680"-2.880"
3.280"-3.480"
2.466"
3.359"
0.500"
2,400
100
-20° to 225°
Durometer 85A (Hard)
Black
0000000
0000
3"
2.880"-3.070"
3.480"-3.670"
2.650"
3.609"
0.500"
2,300
100
-20° to 225°
Durometer 85A (Hard)
Black
0000000
0000
3

1/4

"
3.070"-3.270"
3.670"-3.870"
2.824"
3.859"
0.500"
2,100
100
-20° to 225°
Durometer 85A (Hard)
Black
0000000
0000
3

1/2

"
3.470"-3.660"
4.070"-4.260"
3.192"
4.109"
0.500"
1,900
100
-20° to 225°
Durometer 85A (Hard)
Black
0000000
00000
3

3/4

"
3.660"-3.860"
4.260"-4.460"
3.367"
4.350"
0.500"
1,800
100
-20° to 225°
Durometer 85A (Hard)
Black
0000000
00000
4"
3.860"-4.140"
4.460"-4.740"
3.551"
4.609"
0.500"
1,700
100
-20° to 225°
Durometer 85A (Hard)
Black
0000000
00000